Day 119: Aug 11 – Quebec City to Montmagny
Daily Distance = 64.39km, Trip Total = 4,537.49km
I woke up at 7am this morning not particularly rested, I've had a couple late nights researching a change to my intended route and booking some accommodations on the East Coast.  My choice to bring Dash on the trip certainly does add to the amount of planning I have to do, but I don't regret the decision for a minute.  Regardless – I should have given myself one more day in Quebec City to research, rest and explore the city.  Oh well – the show must go on!  And for the next few days I have a new partner in crime as Gail flew into Quebec City last night and will be riding with me for a few days!
We were able to roll out of the hotel around 9am and headed along the dedicated bike paths to old Quebec where we picked up a ferry over to Levis.  One of the workers on the ferry tried to get Dash to play with a rope but Dash was too distracted with all the new sounds around her to take much interest.
We were greeted in Levis with an easy to find trail that gradually climbed out of town.  After putting Dash back in the trailer after a quick washroom break a lady walked by with a dog.  Unfortunately Dash did not respond particularly well and actually ripped through her mesh screen door.  After calming Dash down Gail and I were able to finagle a temporary duct tape repair job on the trailer.  At this same rest area we had a conversation with a local cyclist who was quite impressed that I am cycling with a dog – Dash's popularity across the country continues to grow!
For the most part the ride was pretty uneventful, we always had a dedicated trail or nice wide paved shoulder to safely travel on.  Gail led the way for the first 45km – I didn't even try to keep pace, just stuck with my slow and steady mantra.  I completely expected my last four months on the road to make me a quicker cyclist even though I'm hauling a bit more gear than Gail, but this was certainly not the case!  Around the 45km mark, the pace started to wane slightly so we pulled over for a few breaks in the last 20km and to get fuel in the way of food.
Once arriving at the campground we started the process of setting up camp and were greeted with a couple quick rain showers and a rainbow too – unfortunately I was too slow to get a good picture of the rainbow.
Note: Nov. 23 – Pictures are now updated!
Day 120: August 12 – Montmagny to Riviere-Ouelle
Daily Distance = 74.32km, Trip Total = 4,611.81
As we were riding this morning I mentioned to Gail that I would like to stop at a fruit stand for some blueberries.  The fruit stands are not near as abundant in this stretch as they were between Montreal and Quebec City and I had previously only stopped for strawberries and raspberries.  So just over an hour into the ride when we both spotted a fruit stand on our right advertising blueberries, it was a no-brainer to pull in.  As I parked my bike I heard Gail mutter 'oh shit' from behind me and then heard the sound of a fall.  I immediately turned around to see Gail and the bike on the ground with Gail quickly assuring me she was ok.  Apparently Gail has become too efficient with her new clips and when she came to the stop she clipped out and then accidentally clipped back in.  Shortly after the fall she noticed her arm was swollen so she took a seat at the picnic table and I tried to ask the gentleman working the fruit stand for some ice.  Unfortunately he spoke no english and although I tried miming an action for ice and repeated the word 'glace' (the word I'm sure I have seen printed on ice machines) he wasn't understanding me.  Fortunately he went over to the house and came back with his granddaughter (I'm assuming his granddaughter) who did speak english and was able to translate for us.  She was very quick to bring out ice wrapped in a cloth as well as a frozen bottle of water so that we would have ice while on the road – so thoughtful!  After all this was said and done, I purchased what had to be the best tasting blueberries I have ever had.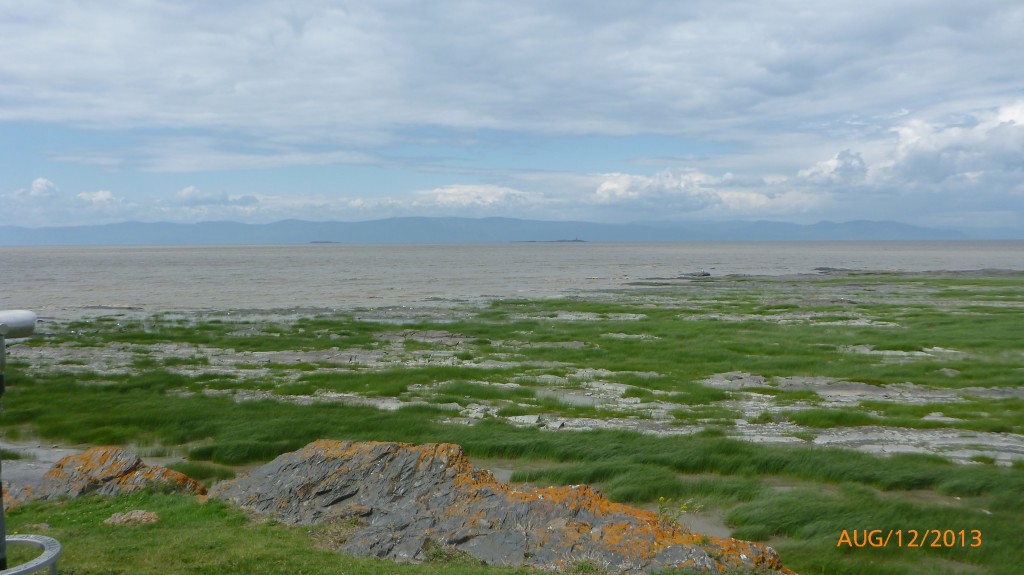 Back on the road we were on 132 just about to head into a very small town called Saint-Roch-des-Aulnaies when we saw the signs of construction ahead of us.  As we approached the flag man we asked if we could travel on the road, he told us no, that we would have to take the 10km detour with the cars.  We tried to persuade him to let us go through, explaining that a 10km detour is a long way for us to travel.  Eventually he radioed another worker, we could tell he was talking about us with a handful of words 'deux madame', 'pannier', 'bicyclette', etc., once off the radio he told us nope, the route was just too rough.  I tried to persuade him that we were ok with a rough route but he wasn't having anything of it.  So, Gail suggested we pull ahead a little bit and re-group.  There was a municipal building a couple 100 metres ahead, so we parked our bikes there.  While I was pouting and strategizing how to convince Gail to go through the closed road we noticed two cyclists coming from the other direction through the closed road (with panniers – so they likely weren't locals).  My mind was set – no 10km detour for me!  I asked Gail how she felt about ignoring the flag man and just going through the construction site.  There was a bit of hesitation, but while discussing we saw yet another cyclist go through from the direction we were trying to go through.  That sealed the deal. We quickly got on our bikes and headed back to the closed road barrier.  As soon as we turned on to the closed road Gail quickly passed me saying 'they're yelling at us, should we stop?' as she quickly pedalled on.  I glanced behind me where I could now hear the flag man yelling at us, but he wasn't giving chase so I figured it was best to just keep moving forward.  For the first while the road wasn't bad at all, we could still ride, just slowly.  Then we came to a section where the whole road was torn up.  We had to get off our bikes and walk – still better than a 10km detour.  Then we got to a section where they were actively working with several mack trucks and we felt it was too dangerous to pass on the road, so we started eyeing up a couple houses front yards on our left.  Gail made eye contact with the seniors sitting on their front porches and mimed permission for us to pass through their yards, both couples immediately waved their approval.  So we rolled our bikes through a couple yards, over a downed tree log (this required 4 hands to get my bike and trailer over, Gail was quick to offer a helping hand), through small brush and back on to the dug up road (but past the point where the mack trucks were working).  As we were cutting through front yards, two more touring cyclists passed us – they apparently did not have our reservation about cycling so closely to the mack trucks.  We had about another km before the construction zone ended, but it was ridable road again.  All in all, MUCH better than a 10km detour!
While setting up camp I went to have a shower while Gail kindly watched Dash for me (it's quite nice having somebody else around so I don't have to muzzle and leave Dash her in the tent while I shower or go to the washroom).  When I came back from the shower Gail let Dash off leash as she saw me (we had a pretty wide non-service area to ourselves, so there was lots of freedom for Dash).  Dash quickly ran towards me and then started playing her game of running in circles, however instead of running in a circle she bolted for Gail's tent and tried to leap in.  Unbeknownst to Dash the door was zipped closed so she instead made direct impact with the mesh door and bounced back.  She quickly shook herself off while I busted a gut laughing.  The tent was unharmed, thankfully!  I wish I could have gotten that on video!
Our campground store was pretty well stocked, so we enjoyed a nice white wine over our dehydrated dinner and called it an early night.
Day 121: August 13 – Riviere-Ouelle to Riviere-du-Loup
Daily Distance = 62.26km, Trip Total = 4,674.07km
We were really aiming to get on the road by 9am this morning as we had a short day today, a hotel to look forward to tonight, a long ride tomorrow and rain was going to start today and get increasingly stronger throughout the day. Even though we were up nice and early (before 7am), for some reason we seemed unable to get on the road until about 9:45am.
We headed out into a decent headwind (not prairie strength, but enough to slow our speeds down a bit).  In the morning we just had light sprinkles, but by about noon it was raining more consistently and by 2pm it was starting to get uncomfortable mostly because the temperatures were also cooler than normal (around 12-15 degrees).  Just before noon we came through a town called Kamouraska and stopped at the tourist info to take a quick break and use the washrooms.  While here we bumped into 3 other cyclists and swapped the normal stories.  From here and for the rest of the day we took only short breaks.  With the rain and the cooler climate it was uncomfortable to take breaks of any length 'cuz the body would start getting cold.
We arrived in Riviere-du-Loup around 4pm.  A warm shower never felt so good!  After getting cleaned up we ordered room service.  I was starving so actually ordered two meals – a dinner size salad and a club sandwhich with mashed potatoes.  Gail restrained herself and just had one meal.  After dinner I headed to the hot tub with my book and we were out for the night by 11pm.