Day 131: August 23 – Miramichi to Bouctouche
Daily Distance = 112.15km, Trip Total = 5,306.33km
Today was a pleasant surprise on the weather front – they were calling for rain until early afternoon and instead I only got a couple quick sprinkles.  Temperature had also cooled off and was a very comfortable low 20's.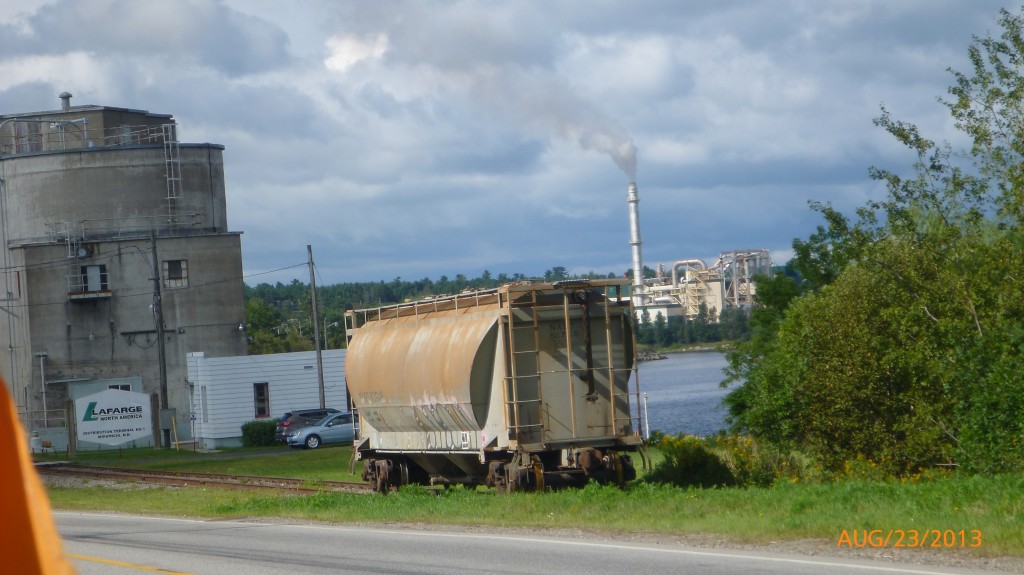 My route today took me mostly south on hwy 11 which sometimes had a nice wide paved shoulder and other times did not.  Overall I found traffic much more inclined to slow down and move over for me than what I was noticing a couple days previously on hwy 8.  As I left Chatham I passed by the airport which had a big banner for the Atlantic Air Show which was going to be held this weekend – darn it!  I was early by 1 day!
Around the 50km mark I was able to pick up rte 134 which was a much less trafficked road.  However it did have one common theme that has been consistent throughout New Brunswick – there are trees everywhere!  I have since been informed that New Brunswick is 85% forest and forestery is the main driving force of the economy.  After riding several days past trees, trees and more trees, I found this stat pretty easy to believe!
As I zipped through Saint-Louis I saw a sign for fresh smoothies – I had to pull over for a quick break.  After savouring my peach, kiwi, banana & raspberry smoothie I was back on the road.
In Richibucto I made a left hand turn into a Tim Horton's to use the washroom. This meant I had to make the dreaded left hand turn out of a Tim Horton's onto a somewhat busy road with no traffic light.  It took several minutes to make the turn safely and I snapped a picture of the lineup of vehicles behind me trying to make this same turn.  How is this for a common pain felt across Canada?!?
I reached where the campground was supposed to be located on rte 475 around 5:30pm (after going 3km out of my way east of Bouctouche) to find nothing but a sign for the campground indicating it was another 7km away.  This wouldn't have phased me if the 7km was in the direction I would be heading tomorrow, unfortunately, the 7km was actually heading north.  Pretty much the direction I just came from!  Ugh!
I decided to pull my bike over and scout out my other options.  A quick call to a pet friendly B&B told me that they were booked for the night, however a pet friendly hotel did still have rooms.  While I was debating what I would do a gentleman came over from across the road and we chatted about my trip.  He told me how impressed he was (in particular he seemed impressed that this trip was done with a dog – he was quick to explain his wife and he are huge animal lovers) and suggested that I use his front yard to camp for the night.  I was a bit hesitant, but he seemed nice enough, a retired fisherman who used to run a 500+ employee fishing company (primarily lobster) and with the promise of a fresh lobster dinner thrown into the mix, I couldn't refuse the offer.  Half an hour later after my tent was setup and I was getting all my gear organized he came back out with a very apologetic expression.  Apparently his wife came home and she was 'concerned about how her two cats would handle having a dog on their yard and that I had to go'.  I think I was more disappointed about not getting the promised fresh lobster dinner!  I grudgingly packed up my stuff and headed back into town and checked into the hotel where I was upgraded to a suite and I was quickly asleep!
Day 132: August 24 – Bouctouche to Cap-Pele
Daily Distance = 65.41km, Trip Total = 5,371.74km
After zipping through about 20km of more trees (and the occasional house and farm), I saw Gail and Jim's car approach me from the opposite direction.  We pulled over into a driveway and got Gail's bike off the roof rack as she would be joining me for the rest of the day's ride!  Jim kindly offered to take Dash and my gear in the car for the day so I wouldn't have to schlep my stuff for the rest of the day! Yay!
In Shediac we came across a bike rally and decided to stop for a drink and lunch.  We expected service to be a little slow due to all the people in town for the bike rally, but I don't think either of us expected to wait 40min just to get our water and drinks.  Especially when everybody around us who came in after us already had their food.  And it was definitely not a good sign when around 45min a waitress came out and asked us to repeat our order just so they could 'confirm they got it right'.  Another 30min later we finally got our food.  The drink was tasty though (or mine was at least!).
A quick ride after lunch got us to our campground by the ocean for the night where Jim had already started setting up camp and Gail had both wine and coolers on hand – does it get any better than this?  After dinner (dehydrated food), I took Dash for a walk on the low tide ocean floor and dipped my hand into the pleasantly warm ocean water.  This area is known for having the warmest fresh salt water beaches in Canada.
Day 133: August 25 – Cap-Pele to Amherst
Daily Distance = 58.16km, Trip Total = 5,429.90km
I knew today was going to be a relatively short ride day, but I still wanted to get an early start so I could get some errands done in the afternoon.  I was on the road by 9:30, after having said my g'bye's to Gail and Jim.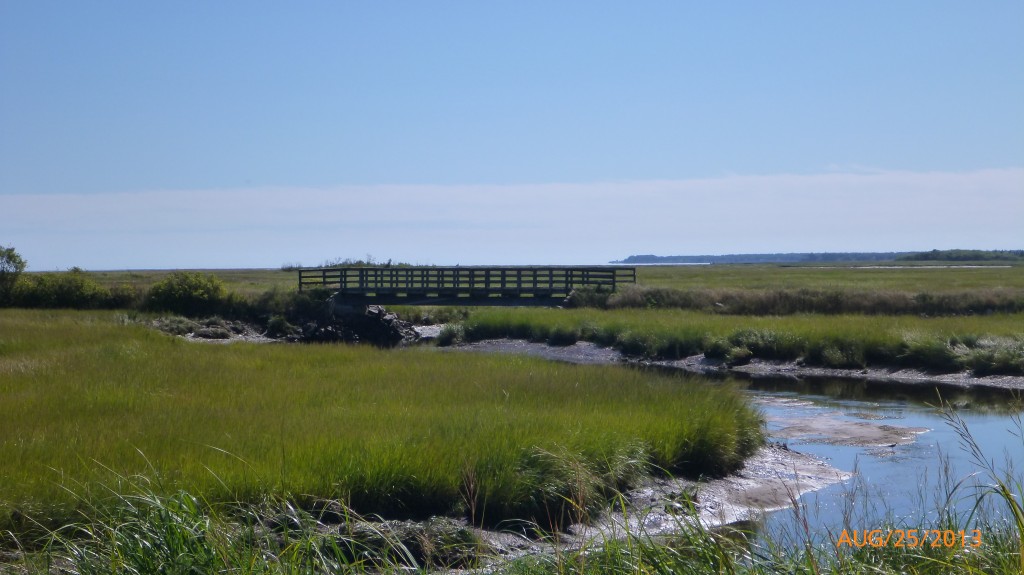 About 30km into my ride I stopped at a little community hall for a quick break. Shortly after I was stopped three cyclists rolled by.  Originally they were going to keep cycling, but after seeing all my gear they couldn't resist coming over and chatting.  They were out for a little training spin before they cycle around the Calbot Trail next weekend (apparently it is a supported 3-day ride organized through an Atlantic Canada Cycling group).  As we were talking one of the gents mentioned another cross-Canada female cyclist he met a few weeks ago who had all of her gear stolen in New Brunswick.  I had actually heard of this same story through the gal I had met while camping in Causapscal, QC – it was one of the trio that she had ridden with from Victoria to Quebec.  Needless to say I paid particular attention to my bike and gear while in New Brunswick!
A couple km's later I saw a sign indicating I was now in Nova Scotia.  Given that I was on a relatively quiet country road (rte 970 and turning onto rte 366), I wasn't sure that there would be a sign indicating my crossing of the province, so I was happy there was!  Even better – when I turned around there was a 'welcome to new brunswick' sign – this was more than I saw when I actually crossed into New Brunswick so I had to turn around and get a quick picture in front of that sign too.
When I made it to the downtown core of Amherst I pulled over for about 15 minutes and listened to a live band that was singing some oldies to a pretty big crowd (or what I assume to be a pretty big crowd for a relatively small town).  I made it to my hotel around 2pm and spent the afternoon hiding from the sun, getting caught up on emails and the blog.