Day 139: August 31 – Amherst to Seafoam
Daily Distance = 115.03km, Trip Total = 5,544.93km
I knew today was going to be a long ride because of the lack of campgrounds along my chosen route, so I had the best of intentions of getting on the road by 8:30 at the latest.  Although I woke up plenty early, I was slow moving and didn't leave the hotel 'till 9:30.
I had done some research last night on the different route options between Amherst and New Glasgow.  Originally my intention was to take the Trans Canada (hwy 104), but having driven it on my little road trip the past couple days I wasn't particularly thrilled about the lack of shoulder in spots and the speed of traffic.  Although I'm sure it would have been perfectly safe given there were two lanes in each direction and traffic would have been able to move around me, it just didn't seem like it was going to be a relaxed bike ride.  So I decided instead to head along hwy 6 which appeared on the maps to be a quieter road.  It had the added bonus of being near the water and we've already established how much I am drawn to water.  Although hwy 6 did not have a shoulder, traffic was pretty quiet and incredibly good about moving over for me.  Apparently Nova Scotia has a '1 metre rule' – meaning cars are to give cyclists a 1 metre berth when passing.  It's clear not everybody is aware of this rule (or chooses to abide by it), but I found on the country roads the vast majority of motorists do follow the 1 metre rule.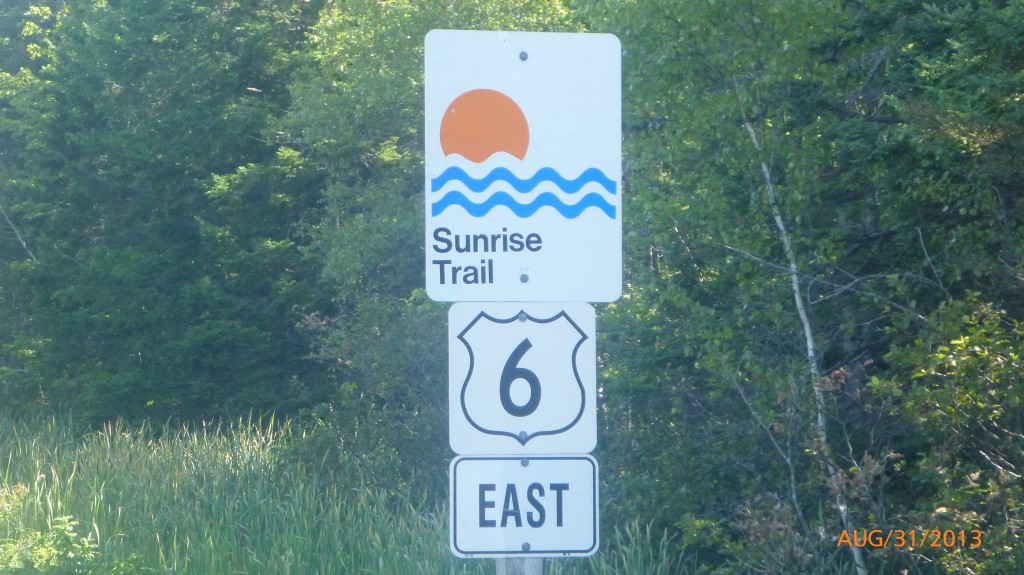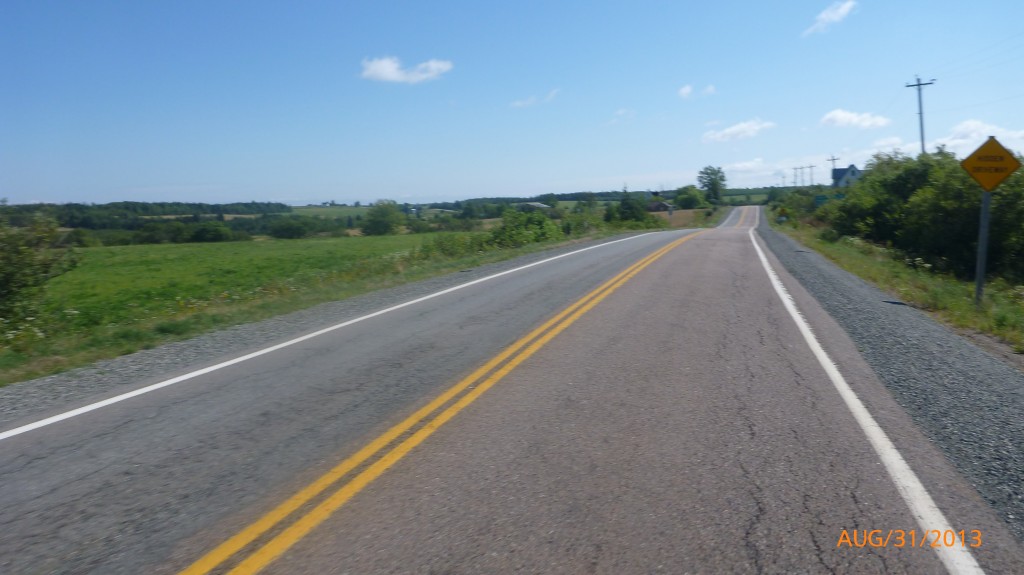 Because of my late departure this morning, the amount of ground that I needed to cover and the hilly terrain (not steep hills, just constant rolling hills) I didn't take many breaks.  However I did have one pleasant break along the water while I watched a couple kayakers head out for a paddle.  As well as a break in front of a grocery store while I wolfed down a chicken sandwich.
When I arrived at the campground at 7pm (this is a late arrival for me), the lady told me they didn't have any tent sites available.  When I told her that I was on a bicycle she asked where I had come from today.  As soon as I said Amherst suddenly a site became available.  I was more surprised to find when I got to the 6 tent sites in the campground that only 3 were actually taken.  Odd. I quickly setup camp, showered, and cooked dinner just before darkness set.  Shortly after sunset there was a firework display, I took Dash for a stroll around the campground and I was out like a light!
Day 140: September 1 – Seafoam to New Glasgow
Daily Distance = 39.43km, Trip Total = 5,584.36km
The forecast today was rain.  And a lot of it.  So I was glad I had covered a lot of ground yesterday and had relatively little to cover today.  I was also glad that although it did rain overnight, it stopped just long enough in the morning for me to pack up camp.  As I rolled out of camp it started to pour.  I had to laugh, the timing couldn't have been more perfect – better for it to start raining when I'm on the bike then when I'm trying to setup or take down camp.  Turns out that stint of rain only lasted about 10 minutes and I actually enjoyed a rain free ride for a couple hours.  I did however get greeted with a constant wall of rain for the last 8km of the ride.
As for the ride itself – the hills started getting bigger (2-3km climbs vs short rolling hills), but the grade was not as steep, I prefer these lesser grade hills even if they are a longer climb!  Near Pictou I turned on to 106 and was surprised to find just how busy this road was.  Hwy 106 leads to the ferry to PEI, so I kindof suspected the traffic to ebb and flow with the ferry crossings, which was approx every two hours.  How wrong I was.  The traffic seemed constant.  On the plus, for the most part there was a paved shoulder.  A couple kilometre's from my destination I turned on to Hwy 104 and was not entirely surprised to see that the paved shoulder was almost non-existent.  Given the heavy rain and reduced visibility at this point (several cars were even putting on their 4 ways) I opted to cycle on the gravel shoulder.  What a good day to only have to ride 40km!  I reached my destination by 1pm and quickly checked in and started hanging all my stuff in the room to dry.
The afternoon was spent researching route options for the next four days.  After the past two days ride I've solidified my decision to take the quiet country roads wherever reasonably possible.
Day 141: September 2 – New Glasgow to Antigonish
Daily Distance = 61.70km, Trip Total = 5,646.06km
As I headed into the downtown core of New Glasgow I noticed a secondary language on the signs.  What is this?  Gaelic!
I trucked out of New Glasgow (after a brief convo with a local) on hwy 4.  Around 15km hwy 4 merged with hwy 104 (the trans canada).  Or so I thought.  I hopped on to hwy 104 and went down a decent sized hill and then began an uphill climb when I noticed two things: 1) a passing lane opened up and with that the paved shoulder was non-existent and 2) there was in fact a road to my right, it looked like 4 actually ran parallel to 104 for a little stretch.
Why am I on the busy road?!?!
I had no desire to climb back up the hill I just went down to meet back up with hwy 4, so I eyed up the huge ditch between the two roads and decided it was something I could push my cargo across.  A few minutes later I was once again on my nice quiet country road.  Awwwwww.
Today's scenery was wonderful.  Forested, hilly terrain with the occasional small area cleared out providing a nice view of the surrounding hills.  I haven't quite pinpointed why, but the forest here is so much more scenic than the forested ride through New Brunswick.  The majority of the first 40km were spent gradually climbing with short, quick drops and the last 20km were spent mostly coasting into the town of Antigonish.  Mother nature treated me to about a 2hr mist in the middle of today's ride that was great for keeping me cool while chugging up the hills.
I'm not entirely sure when this happened – maybe 2 or 3 weeks ago, but I've found that I've stopped listening to my music when riding.  Perhaps it was done subconsciously to allow me to better hear the approach of potential wildlife?  Perhaps.  But I think it is so I can better absorb my surroundings.  My music now is the sound of birds chirping, the occasional scamper of a critter in the ditch scurrying off into the woods when they hear my bike, the soothing sound of water as I glide by a small creek or waterfall hidden in the forest, the sound of my wheels rolling along pavement and the slightly increasing creaks and groans of my bike and Dash's trailer.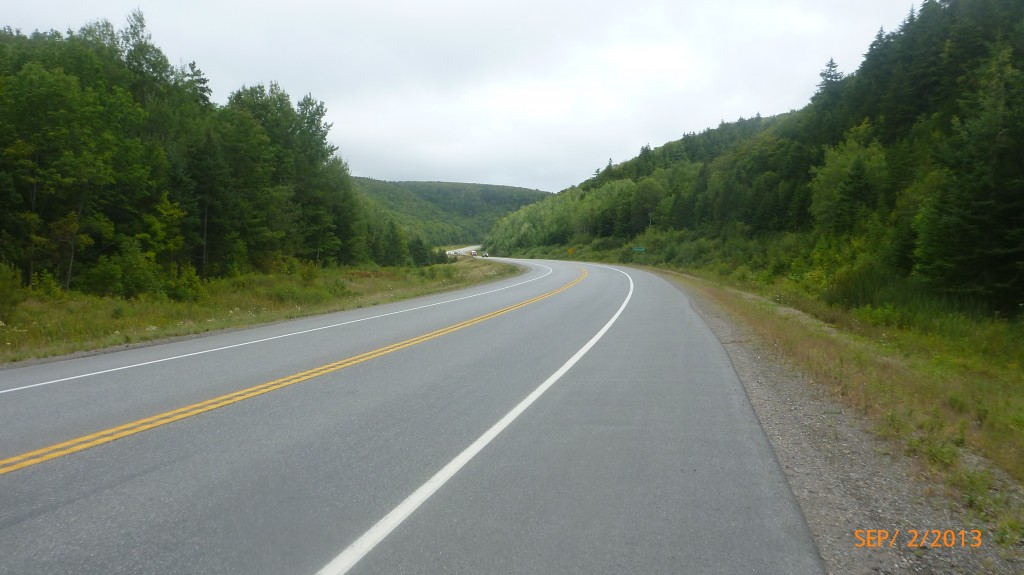 Around the 40km mark hwy 4 merged up with the busier hwy 104, I had no choice but to take this road for about 5km.  Shortly after I pulled onto hwy 104 I noticed that distant spec in my mirror!  Another tourer!  When he caught up to me I was surprised to find that he was also hauling a dog in a trailer!  A 50lb golden retriever no less!  His name is Jason and was heading from Montreal to St. John's.  It was difficult to talk because of the noise of the traffic and we couldn't ride side by side given the width of our trailers, so after a few minutes of trying to chat we parted ways.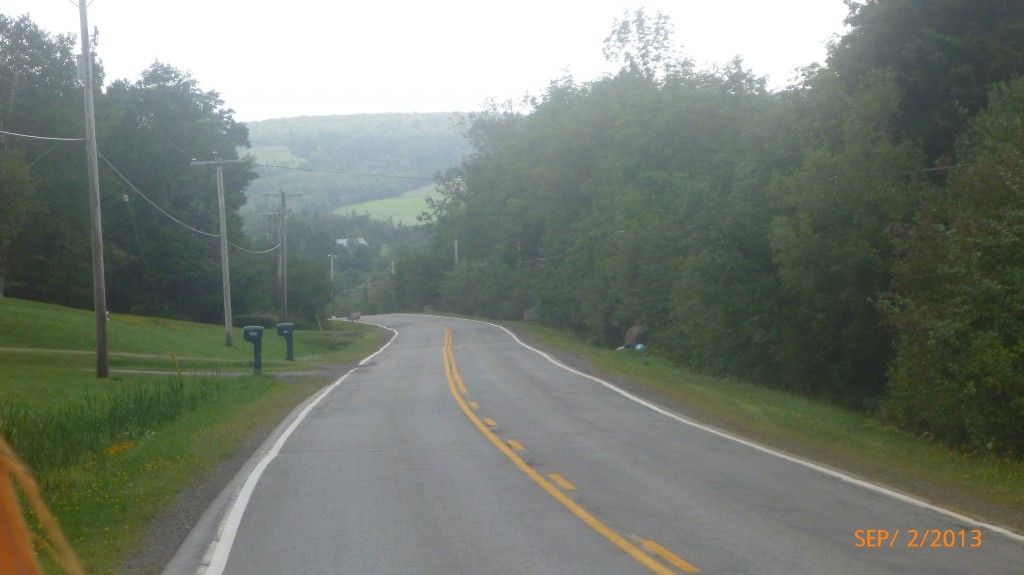 When I arrived in Antigonish I cleaned up and went for a little stroll around town.  Given it was labour day Monday and Antigonish is a small university town (St. Frances Xavier University), the town was alive with students back for another year at school.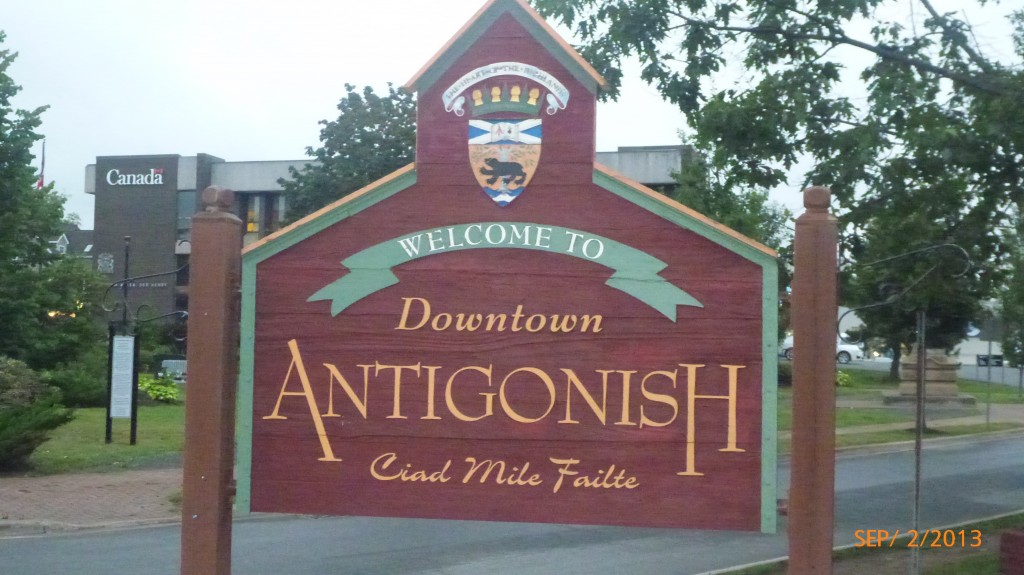 Day 142: September 3 – Antigonish to Port Hawkesbury
Daily Distance = 61.98km, Trip Total = 5,708.04km
I left the hotel early today, around 9am because they were calling for both headwinds and rain to increase throughout the day.  I made a quick stop at the Tall and Small Cafe and picked up a cookie as a treat (thanks Danielle for the recommendation!).
I spent the first stretch on hwy 104 where I was quickly past by a couple.  As they past me the lady hollered out 'are you almost done your trip too?  Heading to St. John's?', I quickly hollered back 'yup' and they were speeding off.
I was expecting to find the hwy 4 turnoff around the 18km mark, according to my iPhone hwy 4 is also referred to as the Sunrise Trail in this area, so when I saw a sign for the Sunrise Trail I was quick to take the road without double-checking my location on the iphone maps app.  When I first turned on to the road I was a bit surprised that it headed slightly NW, given my primary direction today was to be east.  But then it corrected slightly and just headed north.  I thought I would ride for a little bit and see whether it started to veer east.  After about a kilometre of heading due north I pulled over and consulted with my phone.  Turns out I took an exit a couple hundred metres too early.  However this road would eventually head east and meet up with hwy 4.  I was already one kilometre in so I decided to just go with it and was graced with some nice water views.  And I think every single car that past me waved – so friendly!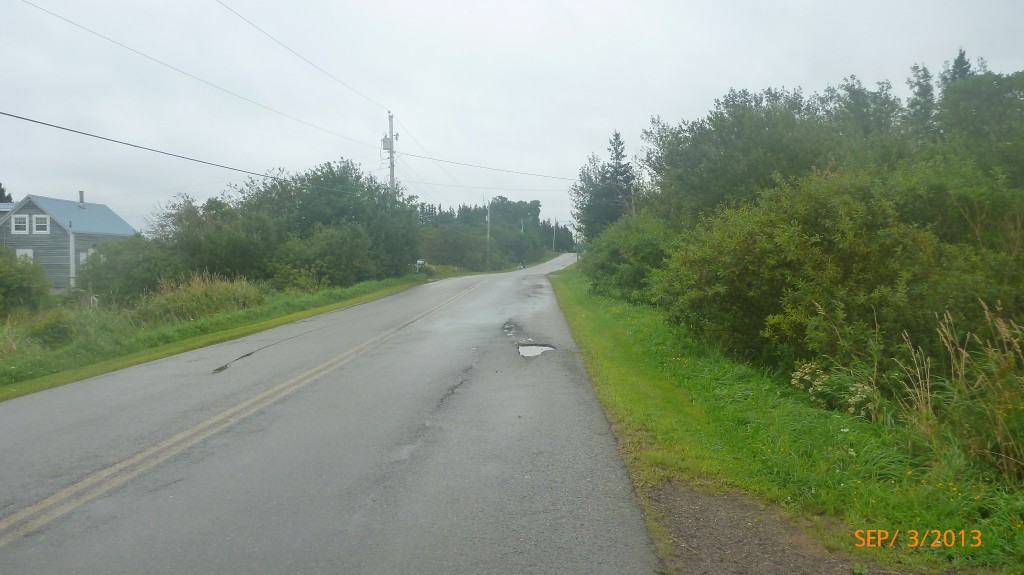 I eventually got to the Canso Causeway which links Cape Breton to the mainland.  With the 50km/hr crosswind that wanted to constantly drift me in to traffic this was not a particularly enjoyable crossing.  Nor was the kilometre climb on the other side of the causeway along 104 that had no paved shoulder and even though traffic had a passing lane with nobody in the left hand lane, they would continue to whiz by me down the middle of the right hand lane.  Urgh!  A plea to motorists – when a cyclist is contending with a hill, rain, no shoulder, a strong head or cross wind and are loaded down with 100+ lbs of gear and you are in your nice cozy car with two lanes at your disposable can you just move over???  Although the cyclist is doing their darnest to not drift into traffic those are a lot of variable that are not working in the cyclists favour.  Ok – that will hopefully be my only motorist rant.  Needless to say, I was happy to be off the road and at my destination shortly after crossing the Canso Causeway.
Shortly after pulling into my hotel I spotted a tourer across the street.  I gave a big wave and he came over to chat a bit.  He is from Montreal, biked from Montreal did a loop around the cabot trail and is now on his way back to home – he still has a bit of ground to cover!  I won't be the last tourer on the Canadian roads this summer!
I have to give a quick shout out to Carolyn at Ship2Shore for scheduling my flight home (and registering Dash on said flight).  Thanks for looking after this for me Carolyn!  Hard to believe, but it is time to start thinking of returning home!
Day 143: September 4 – Port Hawkesbury to St. Peter's
Daily Distance = 50.17km, Trip Total = 5,758.21km
When I stepped into the hotel breakfast room this morning I was surprised to see the couple who had passed me on the road earlier in the day yesterday!  The lady was chatting up another couple about their cycling adventure across Canada this summer.
As I got on the road, I knew I would be on the same road I wasn't entirely pleased with yesterday afternoon for about 5km, at which point hwy 4 and 104 once again split.  Oddly enough ALL the traffic this morning generously moved into the left hand passing lane for me.  Not sure what was different this morning vs yesterday afternoon, but I'll take it!  While on this road, I crossed Jason (the guy with the 50lb dog), he said he has decided to take the newer route along 105 on the north side of Bras d'Or Lake.  I wished him safe travels as I headed for the south side of Bras d'Or Lake a large salt water inland sea.
It's a good thing I have a new found appreciation for hills, 'cuz it was another hilly one today.  But the grades were manageable and it was a pleasant ride.  It was another rainy day and about half way into the ride a fairly heavy fog set in.  The relatively light traffic didn't seem to have any problem seeing all my fluorescent gear.  However the fog did hinder my ability to gawk at the scenery around me – hopefully I didn't miss much!
I arrived in St. Peter's shortly after 2pm to the now familiar faces of the couple from breakfast.  They were staying at the same inn as me.  This was a very small 8 unit inn and we were the only patrons, however the rooms were very spacious and well taken care of.  After checking in and noticing that I had a fridge I headed over to the grocery store to pick up some fruit, veggies, yogurt and chocolate milk for an afternoon snack and breakfast tomorrow.  By the time I got back from picking up the groceries I was surprised to find that the power was out.  I put everything in the fridge anyway hoping the power would come back on and some of it would be salvageable.  Because it was still relatively early in the day I headed out for a walk along the canal and Battery Provincial Park.  Around 10:30 the power came back, so my groceries would not go to waste!
Day 144: September 5 – St. Peter's to Sydney
Daily Distance = 84.62km, Trip Total = 5,842.83km
The forecast was calling for sun today.  For a while at least.  The rain wasn't expected to start until the afternoon.  And winds (headwinds) were supposed to pick up during the day as well.  So I had a target of getting on the road by 9am and I actually made that target!
It was another hilly day (are you noticing the Nova Scotia trend? – hills and rain!), but unfortunately for me today the grade of several of the hills got that little bit steeper so I did a decent amount of walking today.  All the more to take in the scenery around me, right?  Scenic views they were too, as today I spent the majority of the day cycling along the southern coast of Bras d'Or Lake which at times had nice level sandy beaches and at other times had cliffs on the waters edge.
Traffic today was a bit busier than the previous days along hwy 4, as hwy 104 no longer exists, but I found it to still be a safe ride.  The first 20km the road was a bit rough with pot holes and then there was a 5km stretch of construction (which was actually nice 'cuz it slows down what traffic there is) and the rest of the road was quite pleasant.  It looks like this road has likely been re-paved and slightly widened in the somewhat recent past.  There is not a paved shoulder but the road is wide enough that 2 cars and a cyclist can all pass at once, although I found when this situation did occur the vehicle behind me would slow down and wait until the coast was clear – which I appreciated.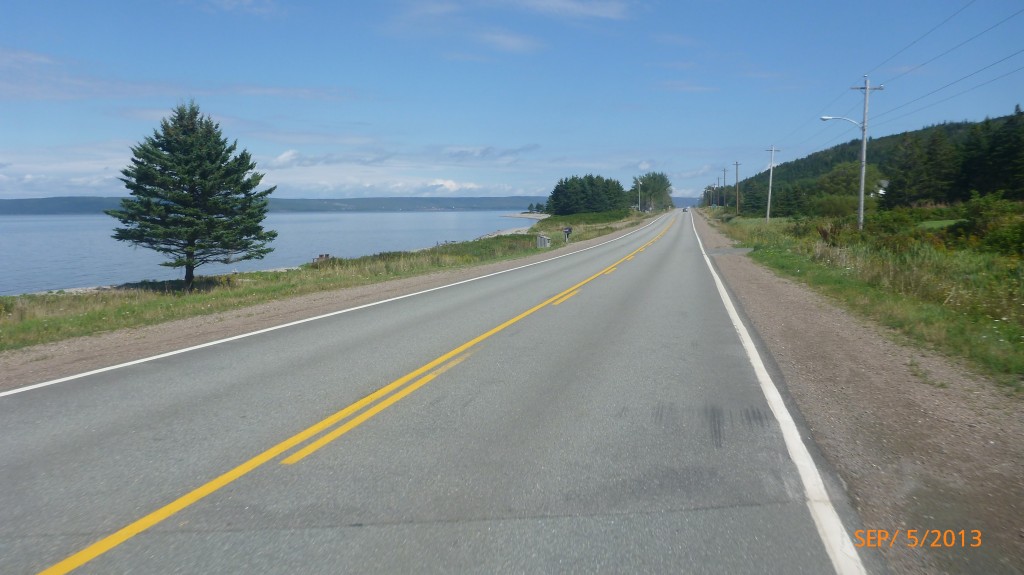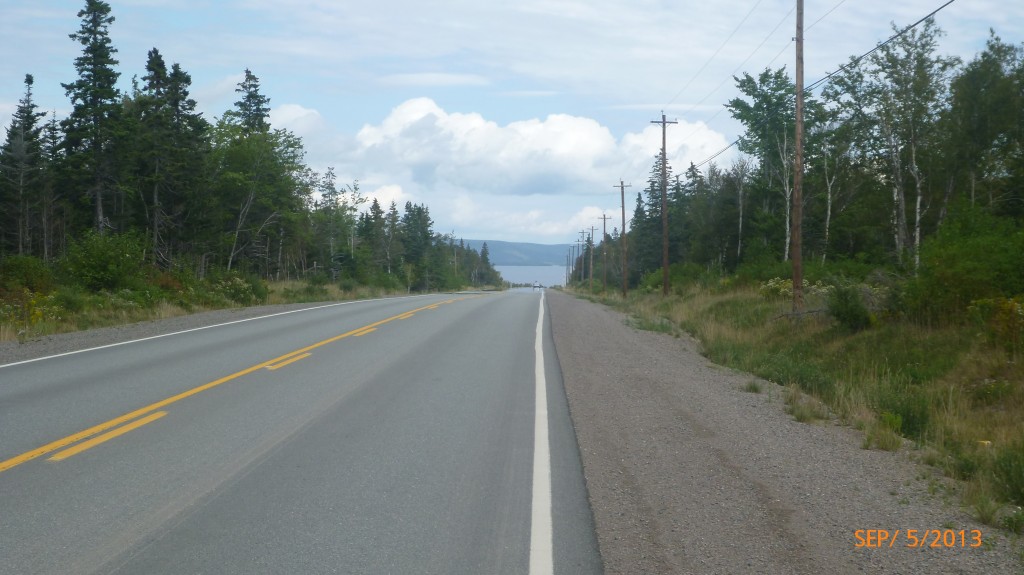 In Big Pond I pulled over at Rita's Tea Room for a break.  This was owned by Rita MacNeil.  Just as I pulled in there were a group of about 9 ladies who were heading in for a lunch reunion.  They were quite taken both by Dash and my journey and immediately greeted me to Cape Breton.  There was a flurry of pictures as they asked me to take pictures of them (on a couple cameras) and then they asked to take pictures of me, me with the bike, me with the bike and Dash, etc.  It was pretty funny.  I didn't stick around long as I wanted to try to beat as much of the approaching rain/wind as possible.  So after a quick tour of the Tea Room, a washroom break, a protein bar and some beef jerky I was back on the road.
About 35km from my destination the sun disappeared and the sky clouded over and the winds start picking up ever so slightly.  At this point I stop hoping that I'll out bike the rain and instead just be happy with every extra km I'm able to cycle dry.  15km later I arrive in East Bay, I'm only 20km from my destination and I still haven't been rained on.  Better yet – the road now has a paved shoulder for cyclists – I was not expecting this at all but I do like it as traffic has started to pick up a bit.  Winds are getting a bit stronger too, but that just motivates me to keep pushing.  It helps that the grade of the hills are not as steep and I can actually pedal my way up them.  Another 10km pass, I'm skirting into the edges of the city and only 10km from my destination and still no rain!  By 4:30 I'm safely at the hotel and I didn't get rained on.  Around 5pm I look out the window and notice that the rain has started.  Just in the nick of time!  Although my thighs are buzzing from how much I pushed them not just today to beat the rain, but the hilly terrain over the past few days, I have to smile.  There's something that feels good about sore muscles from a workout.