Day 51 to 52: Jun. 8 to Jun. 9 – Sydney to Manly Beach
Daily Distance = 5.37km, Trip Total = 1,306.01km, Today's Climb = 55m
While walking around Sydney over the last few days, I observed a few things to be mindful of when cycling with all of my gear:
1) not all trails that google maps identifies are bicycle friendly
2) The roads in the city are rarely straight and for those who are directionally challenged like me, it is very easy to end up on the wrong road (or at least, not the road intended)
3) Some roads suddenly 'dump' you on to an expressway or distributor road with little to no warning (this I observed cycling back from Bondi Beach when I was on a regular city street with a 50km/hr speed limit, traffic lights, roundabouts, etc and then suddenly with what seemed like no warning I was on an 80km/hr road with no shoulder, no sidewalk, no lights, nada – fortunately traffic was light at the time and I was able to exit off relatively quickly)
On today's trip I lucked out.  Other than a couple re-routes due to unexpected staircases I was able to get to the ferry quickly enough and made my way over to Manly Beach.
I spent a couple days in Manly Beach, hiding from the rain when it was raining and sitting by the ocean watching the surfers and listening to the sound of the waves when it wasn't raining!  The rain days also gave me a good opportunity to get some research done on the upcoming lag of the trip.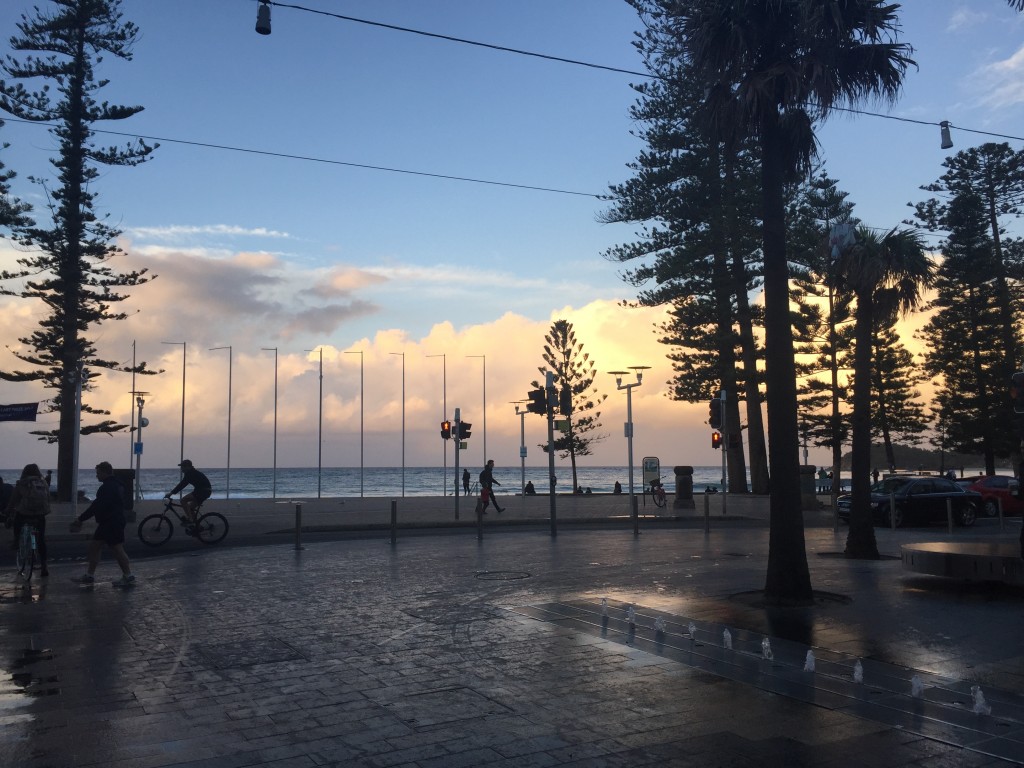 I was going to walk the 5km one way to North Head (a local told me you can sometimes see whales from shore from North Head – the whales are currently migrating north), however I never had confidence that the rain would stop for any lengthy period of time so I decided to stick to shorter walks closer to town and cover!
And for those who are missing Dash, here is what she has been up to: