Note: Nov. 23 – Pictures are now updated!
Day 122: August 14 – Riviere-du-Loup to Rimouski
Daily Distance = 112.27, Trip Total = 4,786.34km
This morning I said g'bye to Gail and headed out into the rain at 8am as a solo rider again.  My original stop tonight was going to be a campground at Bic National Park, however Gail's husband Jim alerted me to the fact that dogs aren't allowed at the National Parks in Quebec – thanks for the heads up Jim!!  This meant my closest dog friendly accommodation was Rimouski – over 110km away.
The forecast was calling for rain all day and it did not lie.  Today would be my first day on this trip where I had rain for the whole day, so I really can't complain.  And I still stand by my statement that I will take rain over wind any day!  Around the 25km mark autoroute 20 merged with route 132, which meant I was sharing the road with the big rigs again.  For the first 45km today I also had a headwind, but a reasonably light one so it didn't hinder me much.  I took my first break around the 45km mark where a group of individuals offered me a picnic lunch and showed genuine concern about me cycling in the rain.  I turned down the lunch only because the temperature was a bit on the cold side (around 10 degrees) and that in combination with the rain meant taking long breaks just led to the body getting cold.  So I quickly chowed down a protein bar and gel, went to the washroom, changed the batteries in my SPOT tracker, let Dash out to do her business and then jumped back on the bike.
After my break I was happy to find that the wind had changed direction and I now had a slight tailwind.  I would like to comment on the scenery that I passed along the way, but I can only assume it was beautiful.  Due to the misty/foggy/rainy haze I was only able to see anywhere from 100-500 metres ahead of me at a time.  Even though visibility was reduced I still felt safe on the road due to the wide paved shoulder and all my fluorescent gear must be doing it's job because vehicles were giving me a wide berth.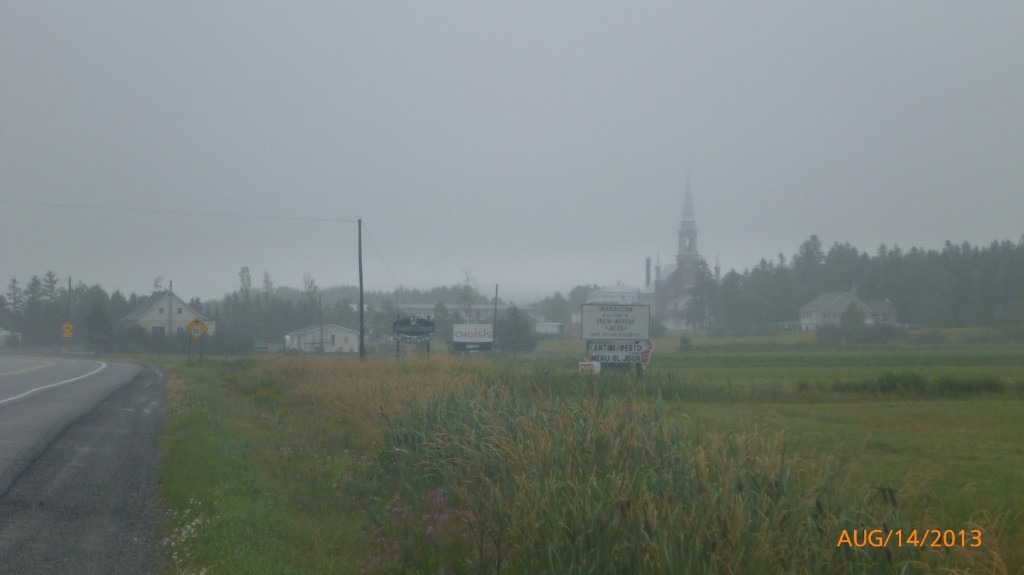 I was able to cover the full 112km today with only taking two short breaks.  I have been noticing over the past couple weeks that my body needs fewer and fewer breaks (and food) during the day while riding, water I always have on hand.  I generally still take the breaks when I come across a convenient location, simply 'cuz I want to take in the scenery around me, however it's pretty cool to see how the body adopts and improves over time and on a day like today it was mighty convenient to not necessarily need the breaks.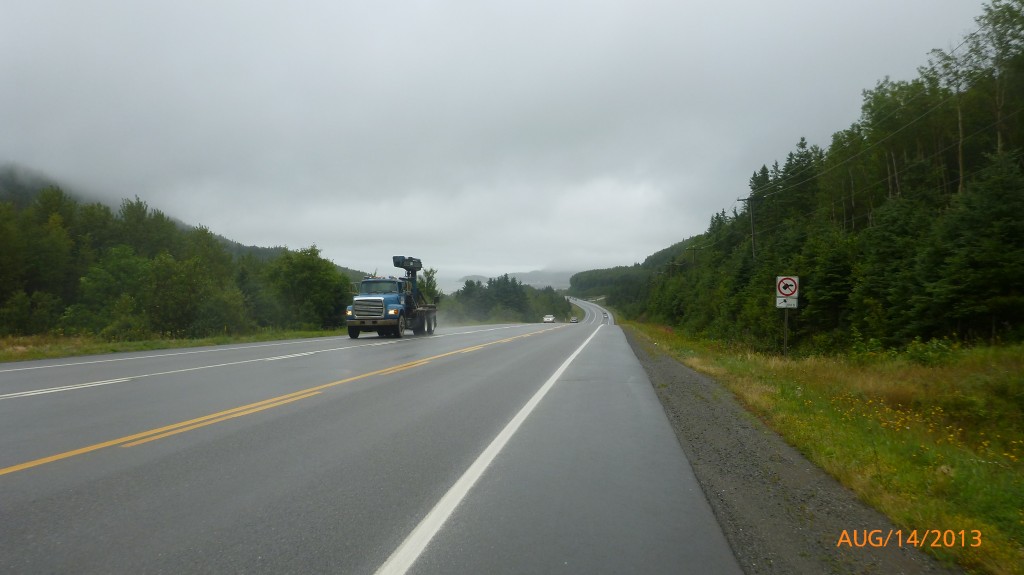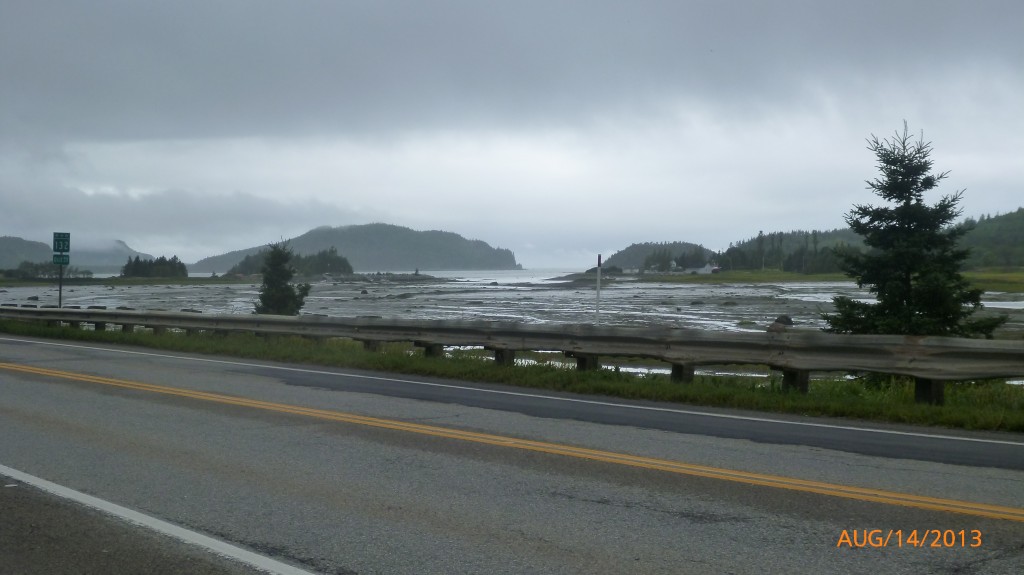 Day 123: August 15 – Rimouski to Sainte-Flavie
Daily Distance = 30.95km, Trip Total = 4,817.29km
Because of the longer distance covered yesterday I opted to make today a shorter day.  And given the choice to spend the evening on the river or inland, I opted to spend one last night on the St. Lawrence river.  So my destination was Sainte-Flavie, I tiny little town on route 132 just before I would start heading inland.  The ride itself was pretty quick, only a couple hours to cover 30km going through several little coastal towns.  The biggest thing I noticed was the very, very distinct smell of salt water coming from the river – it smelt like I was already at the ocean and given that I could barely make out the sight of land on the other side of the river it had an ocean feel too.  Almost hard to believe that I am so close to the Atlantic!!
I arrived in Sainte-Flavie around 2pm and had a pleasant afternoon strolling along the beach and rocks and starring at the water as the tide came in.  Such a wonderfully relaxing afternoon.  Gail and I have noticed the tide influence on the river since our campground in Montmagny.  It seems like such a weird concept to me for a river to have a tide.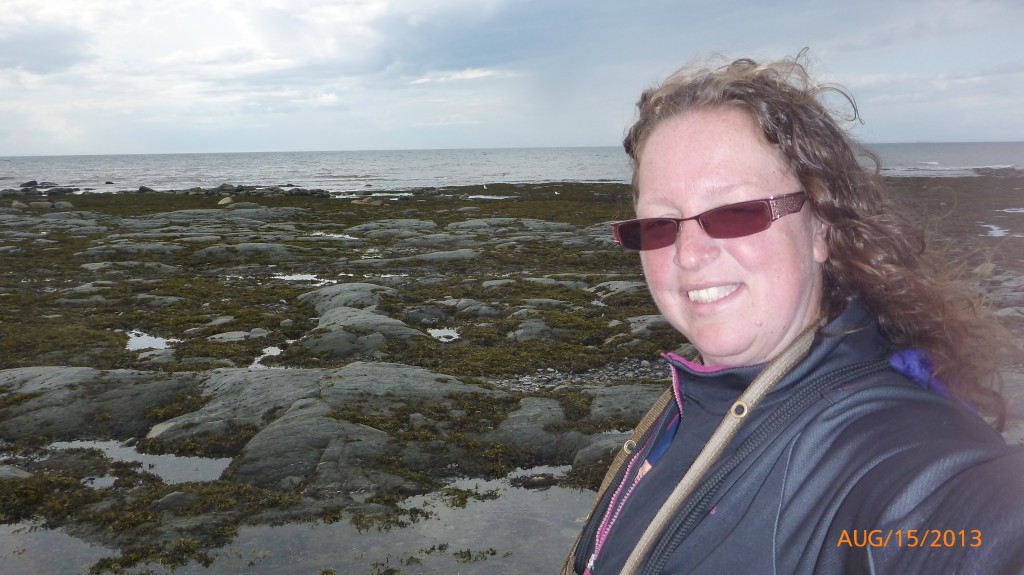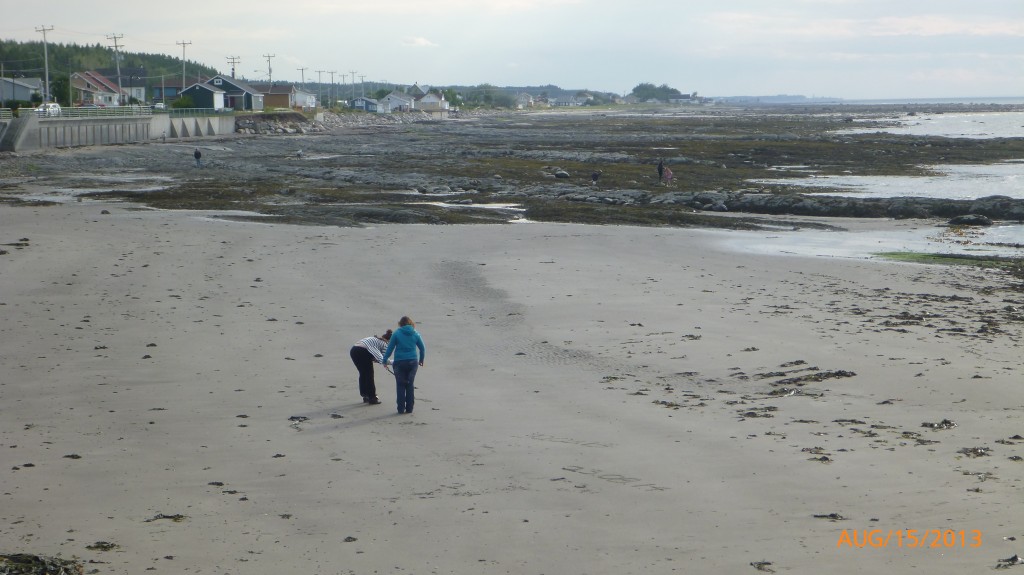 Day 124: August 16 – Sainte-Flavie to Causapscal
Daily Distance = 95.58km, Trip Total = 4,912.87km
Today I felt strong.
Today I spent about 25 of the first 30km climbing, sometimes gradually, sometimes not so gradually and still I felt strong.
Today as I approached Amqui (around the 70km mark) I looked at the skies ahead and saw that the 40% chance of less than 1mm of rain being forecasted was probably going to be closer to 100% chance of 10mm of rain, but it didn't matter because I was still feeling strong.  I could have stopped in Amqui and missed riding in most of the rain, but I had so much energy I wanted to keep going.  Rain or not.  I did however take the chance to stop at the Subway in Amqui and have a sub thinking it might kill a bit of time as the worst of the rain passed.  As I sat on the front step outside of subway eating my sub a gentleman came by and started doing a thorough inspection of my bike.  No big deal, I'm used to the stares and the inspections, but when he started touching the handlebar bag and shaking my rear ortlieb panniers a line was crossed.  Especially considering that rear ortlieb pannier is attached to my back rack which does have that slightly loosening and shaved screw.  So I called out to him 'can I help you?'.  He seemed slightly surprised this contraption was mine, but was quick to tell me about the time he cycled from Portland to San Diego and told me that he was just 'testing' how well my ortlieb pannier fit to the back rack.  Apparently my setup passed the test but I did kindly ask him to stop 'testing' my stuff as I still needed it to get me through the rest of this great country.
After letting the worst of the rain pass, I got back on my bike – and still I was feeling strong.  I flew the last 25km to Causapscal, the last 5km or so in the rain again.  Due to the rain I was going to try to find a motel, but the one I stumbled upon seemed to be booked up so instead I headed to the campground.  I must have spent about 30 minutes warming up in the shower and contemplating this surge of energy I have experienced today.  I have always been the kind of cyclist who prefers flat land.  I never quite understood those who said they like the challenge of the hills.  But today I got it.  The sense of accomplishment when you tackle a hill and still have energy to go for another 50+km is exhilarating!  Plus, there is more to keep you captivated on the scenery front when you don't know what's waiting for you at the top of the next hill or around the next bend.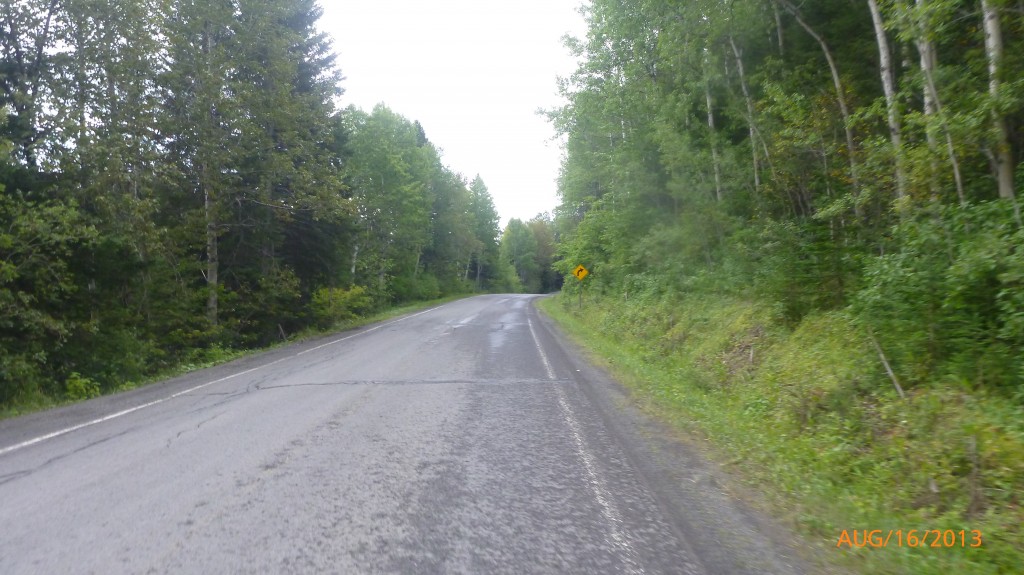 While letting dinner cook away I took Dash for a walk in the non-service area of the campground and saw another lightweight tent (albeit big – 3 or 4 person).  However I saw no sign of a car or bike.  As I turned around and headed back to my site I bumped into a fellow cyclist!  Ashleigh is the owner of the other tent, she had gotten in earlier and went into town to eat and pick up a couple beers which she kindly shared with me.  She is also cycling across Canada, she had started with two other gal friends on April 28th (around the same time as me).  So all the times through the prairies when I was being asked if I was 'with those three girls' – it may just have been her group that was being referred to (and here I was thinking it had to have been the Friends with Fenders ladies).  Anyway – Ashleigh spent a month in Quebec doing a french immersion program, so her trio ended up finding their own paths for the east coast.  She is hoping to get to Halifax by next Fri. to meet up with one of the trio (she'll be doing much longer distance days than my relaxed pace!).  We spent a couple hours swapping stories, commiserating over the brutal prairie winds, seeing if we've bumped into any of the same cross-canadian cyclists, etc.
Today I went to sleep still feeling strong!
Day 125: August 17 – Causapscal to Campbellton
Daily Distance = 83.70km, Trip Total = 4,996.57km
I was really looking forward to today's ride.  After pulling away from the St. Lawrence yesterday and climbing a bit to Lac Matapedia, today I was going to be enjoying a liesurely route following the Matapedia river back down to sea level in Campbellton.  I wasn't disappointed.  Although there were a couple slight climbs, for the most part it was a gradual descent.  Along the way I saw several folks in the river fishing for salmon, apparently there are only specific locations where folks can fish, these are well signed along the way.  At more than one point I thought how cool it would have been to have a raft and just float my way (with gear) the 80km to Campbellton – and not because I didn't want to be on the bike, just because I think it would have been a fun way to spend the day!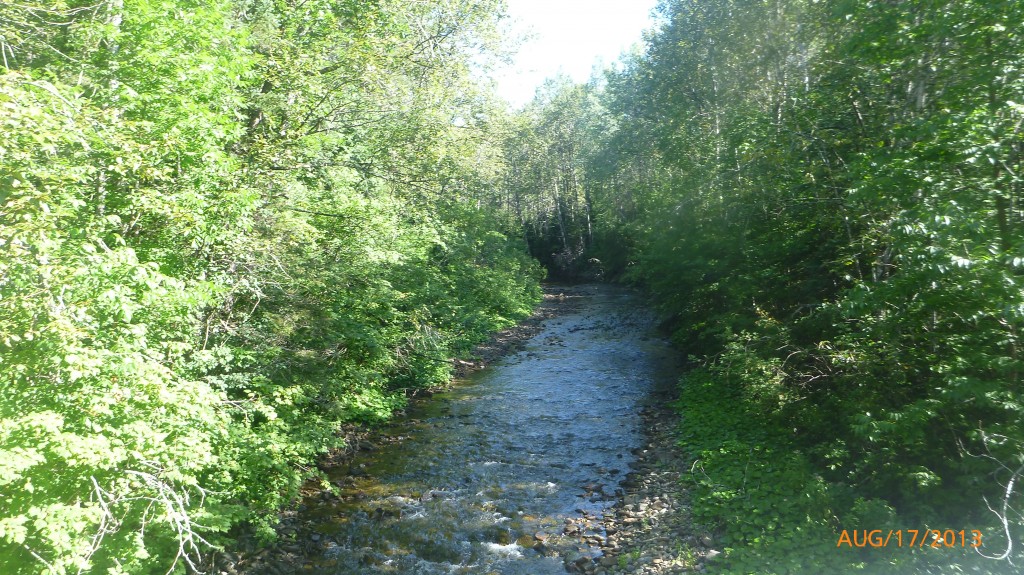 The scenery was also quite stunning as I was passing through the northern reaches of the appalachian mountain range.  I'll let the pictures do the explaining when I'm able to get them posted!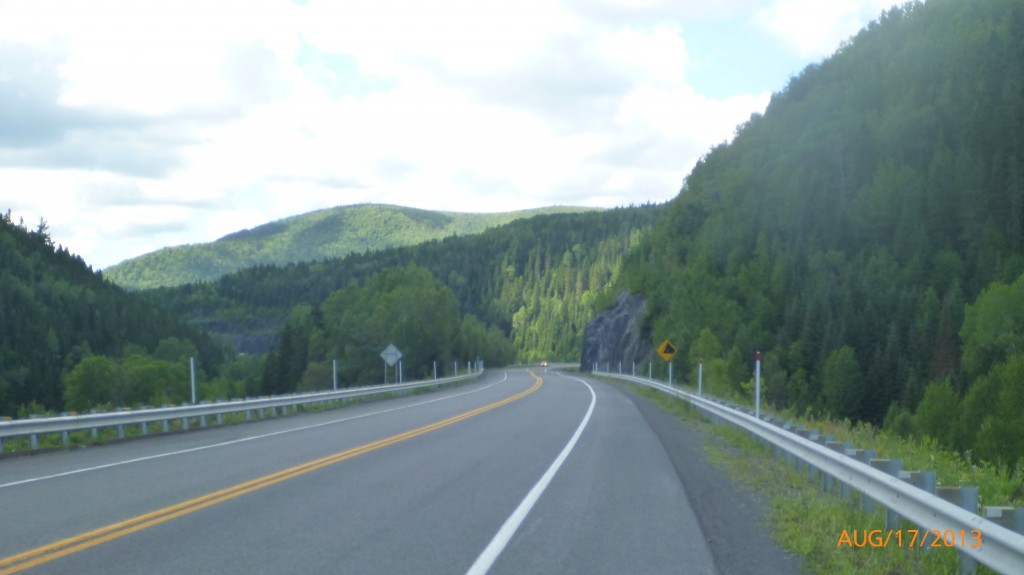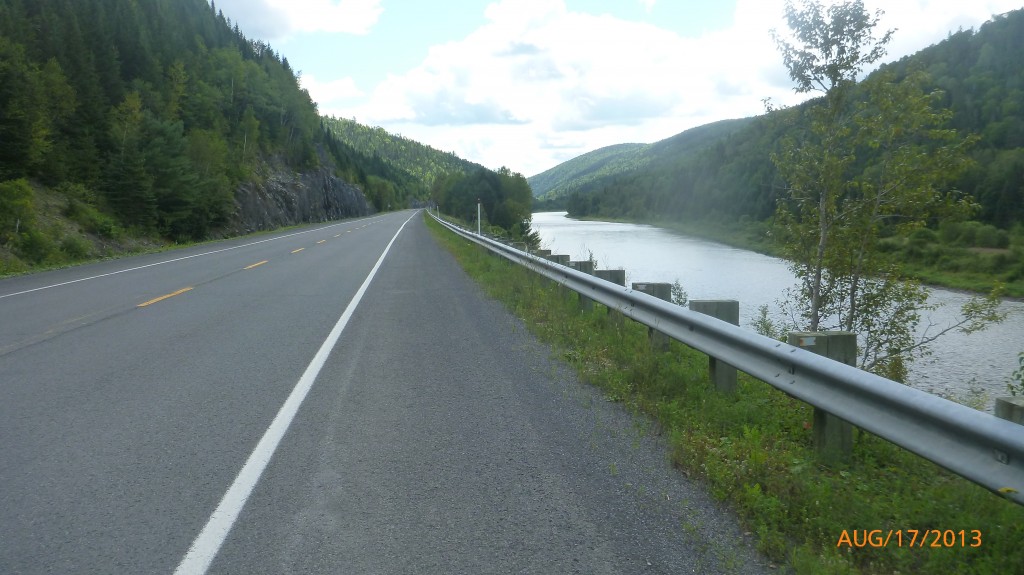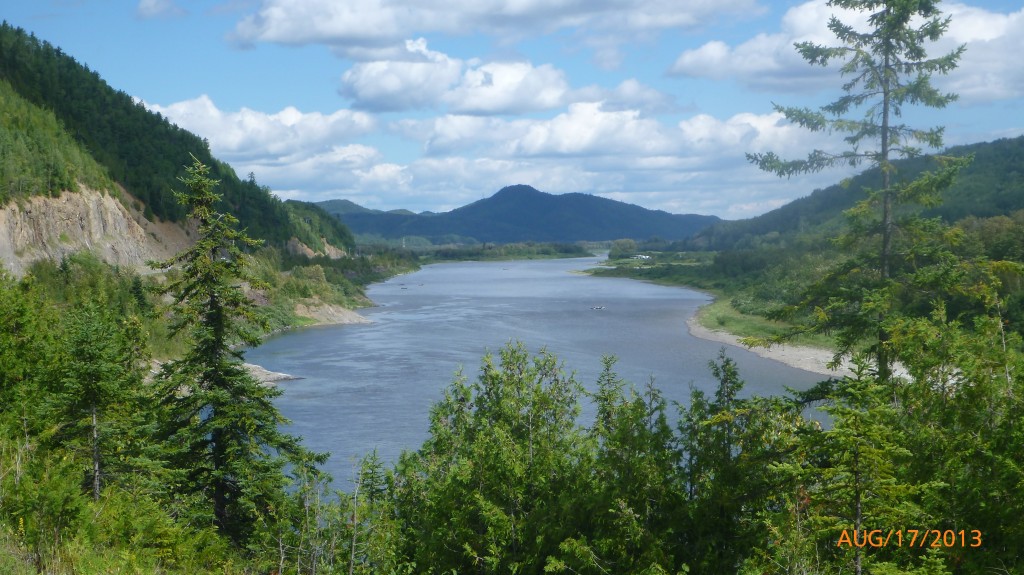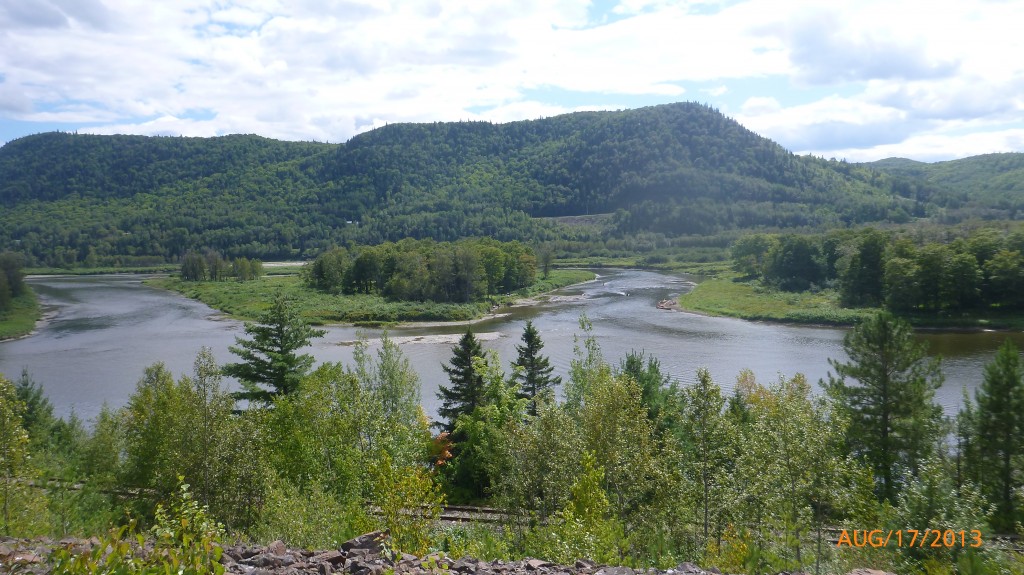 I continued along 132 until Pointe-a-la-Croix where I took the bridge over to Campbellton, New Brunswick – another province bites the dust!  And another time zone change.  My hotel is located right beside the bridge, so it was really easy to find.  After getting settled in and airing out my tent, washing my clothes, etc I headed out for a quick walk to check out the town.  I was immediately drawn to the wharf where I enjoyed an ice cream and a shrimp club sandwich in that order.  You know you're in the maritimes when shrimp and lobster are standard food fare!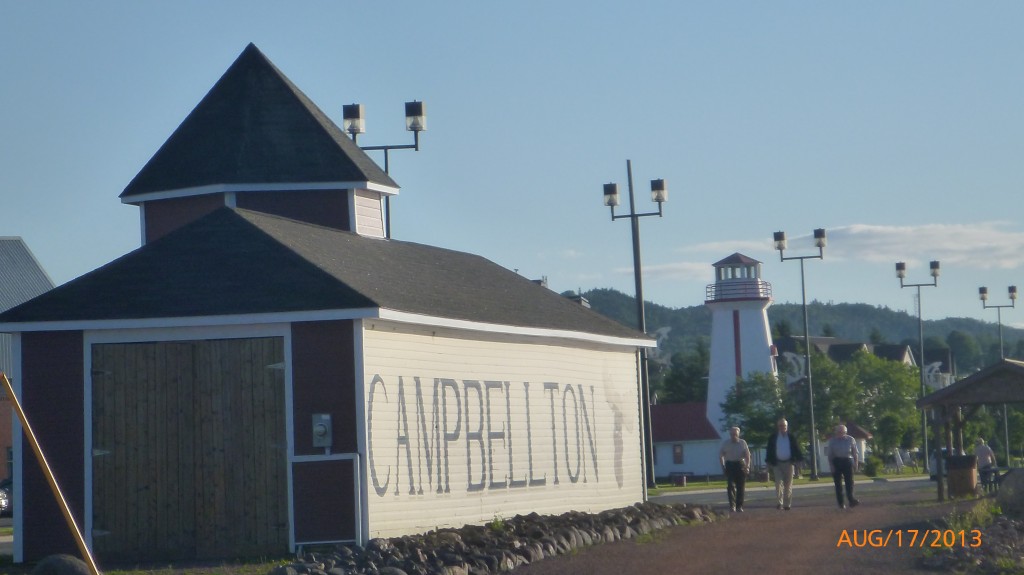 Day 126: August 18 – Campbellton
I enjoyed an R&R day where I caught up on my blog and went for an 8km walk around Sugarloaf Provincial Park.  It was good to get on some walking trails where I could let Dash walk off leash for a while and explore.  Although I think the heat (29 degrees) got to her a bit, around the 6km mark she plopped herself on the ground near a gas station so I sat down beside her and poured some water into the left over fruit smoothie cup I had from timmies for her to drink out of.  After the past 4 or 5 days being so cool in temperature I wasn't expecting summer like conditions to come back – hopefully they'll stick around for more than just the day!