Day 27: May 15 – Matamata to Miranda
Daily Distance = 98.94km, Trip Total = 846.46km, Today's Climb = 72m
I had some serious ground to cover today, so my alarm was set for 6:45am.  After breaky (bagel w peanut butter and a banana), I made the three trips to bring my gear and bike down stairs and attached the panniers and canister.  Here's the end result:
I was pedalling shortly after 8am, making my way north on a service road that ran beside Hwy 27.  A few km's up the road in the town of Waharoa, the service road no longer existed and I was forced to cycle on Hwy 27.
After a couple km's on Hwy 27 I had a choice to make.  Stay on the highway and contend with traffic.  Or roll the dice and take some side roads, hoping they would be paved (gravel roads with a fully loaded bike is a tough ride) and that they wouldn't be dead ends.  There have been a few occasions that I've gone to take a road that my phone app says goes all the way through, but then it's signed as 'no exit'.  The side roads would also add about 15km to my ride for the day, but flat roads and there was little to no wind today.  While I stood on the side of the road pondering my decision for about 2mins and being passed by about 5 transport trucks, I decided to take my chances on the country roads.  Man was I happy with my decision!  These roads were perfect for cycling!  Paved, flat, no dead ends, a bit of traffic, but for the most part I had the road to myself.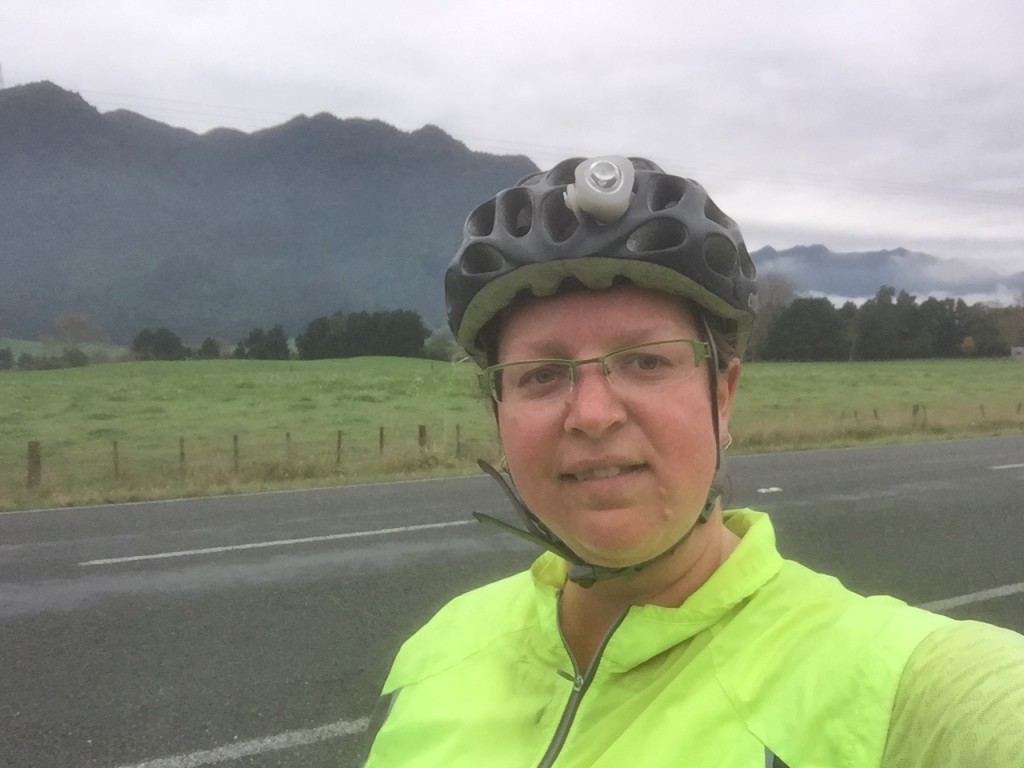 Today's ride was in a plateau with hills in the distance on both the East and West.
Now the downside of country roads are dogs.  I did have a couple dogs give a good chase along their property line, fortunately they  didn't attempt getting through the fences (I assume electric fences) that keep the livestock in.
I pushed pretty hard today and didn't take many breaks.  Truthfully, there weren't too many places to stop and I was happy to be on the bike.  I only passed through two towns all day and stopped for about 15-20min in each of them.  Otherwise my breaks where just to refuel, grab some snacks and a decent amount of time consulting my phone to see if I was on the right road and where my next turn was (there were a lot of right-left turns today).
I reached Miranda by 2:30pm where I was staying in a guest suite (Airbnb style).  My host was so friendly and immediately filled up the Hot Tub, picked some mandarines from their tree for me and extended an offer to join them for dinner.