Day 48: Jun 1 – Moosomin to almost Oak Lake
Daily Distance = 80.86km, Trip Total = 1,870.04km
After being hunkered down for two days hiding from the elements, I woke up this morning super keen to get back on my bike!  This excitement was further enhanced when I realized I was facing a crosswind (with the occasional tail) instead of a headwind!!!  I'll take it!!
I made pretty good time to the Manitoba border and at times I could even coast!  GASP!  What is this?  The bike keeps forward momentum even when you don't pedal for 5 or 6 seconds?  That is joy!
Reaching the Manitoba border I had to stop for the mandatory pic and I took the opportunity to let Dash run in the park for a while.  Not only did I cross a provincial border, I've also crossed another timezone!
About 5km later I came to the Manitoba visitor centre and chatted with the gals working for a few minutes.  They suggested that I sign the cycle log.  They have a guest log specifically for cyclists!  How cool is that?  As I quickly scanned through the log I noticed one entry that started with 'slow and steady'. I commented out loud that this was my mantra to which the tourist info gals said this group had come by about a week ago and they were optimistic I would catch up to them eventually!  Not likely, but I appreciated their optimism in my abilities! lol!  The tourist info gals also commented how crazy it is that we have had so many days with such a strong easterly wind.  I felt like this further validates that I'm not just imagining or exaggerating the wind factor.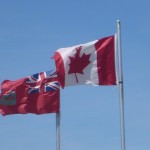 Heading back out on the road about another 15km I started to notice my legs were getting a bit toasty – oh crap!  I forgot to put on sunscreen!  I just happened to be pedalling past a gas station in Elkhorn, so I pulled over and immediately applied the necessary sunscreen (albeit a little late, I did get a bit burnt).  I didn't stop again 'till the town of Virden where I claimed a picnic table at an ice cream place and quickly chowed down on some trail mix and a protein bar.  While sitting there a lady came by and asked about my trip and commented that it was good I wasn't 'bucking the wind' today! I couldn't agree more! lol!
I arrived at Aspen Grove Campground just off the highway between the towns of Virden and Oak Lake around 4:30pm.  After setting up camp and having dinner (fettucine primevara today), I took Dash for a walk around the campground where a lady immediately started to gush over Dash and asked if I could walk Dash over to her site so her hubby could meet her (apparently they also had a min pin that recently passed away).
Day 49: Jun 2 – Almost Oak Lake to Brandon
Daily Distance = 61.01km, Trip Total = 1,931.03km
I woke up around 2:30am a little chilled (temperature dropped to about 1 degree overnight), but once I fully zipped up the mummy style sleeping bag and ducked my head inside I was cozy and able to go back to sleep.  Given the cooler temperatures I was surprised that I slept comfortably until 7am.
Heading out of the campground and just before getting back onto the highway I realized that I had forgotten to apply chamois creme this morning (and was feeling it), so I pulled over and quickly applied (thankfully nobody came by at this time – how embarrassing that would have been!).  Now for those who don't know – chamois creme is applied to the derrière as well as the inside of your shorts to reduce the chaffing and friction that often occurs when cycling for any length of time thereby reducing (but not eliminating) the effects of 'bikers butt' (thanks Jen for informing me of this gem of a creme!).
Since crossing into Manitoba I have noticed a couple things:  it's a bit more green, there are trees (not overly tall trees, but trees no less), cell reception seems limited.
Otherwise today's trip was rather uneventful, I really just took in the new scenery and happily rolled along the highway.  There was a headwind, but it was pretty minor (only about 10km), so I was pretty grateful to have two days in a row where the wind was a relative non-factor!
I got to Brandon around 2, where I headed out to a park and a grocery store to pick up some fruit, chocolate milk, cheese, peanut butter and bagels!  Yummy!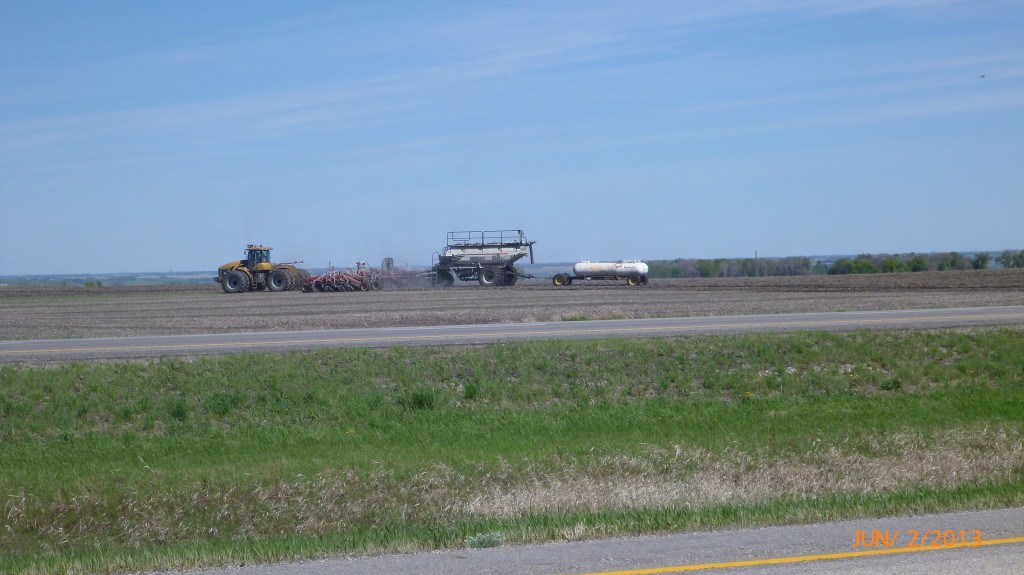 Day 50: Jun 3 – Brandon
Today was super mellow.  I slept in 'till 9:30 and after having breakfast (fruit, bagel and peanut butter) I spent over an hour rotating between the pool and hot tub

After this I caught up on some emails and then around 2pm I headed out for about a 10km stroll around Brandon.  I headed to the downtown core, spent some time in a park watching the trains and then meandered along the Assiniboine River while Dash got to run free and off leash to her hearts content

 I got back to the hotel around 6:30 having picked up a turkey wrap from a local restaurant and then got to work on my blog, uploading pics, reading other blogs before heading back down to the pool and hot tub for another hour!