Day 106: July 29 – Kingston to Brockville
Daily Distance = 89.38km, Trip Total = 3,948.72km
A normal scene of me leaving a hotel is as follows:
1) line up the bike so it is facing the door
2) attach panniers
3) pack everything into the panniers
4) attach tent and bear canister to back rack with bungie cords
5) roll bike into hallway facing direction of elevator while trying to shoo Dash to stay in the room
6) put Dash into trailer and roll it out to hallway
7) attach trailer to bike via trailer hitch
8) if there are people or any noises in the hallway trying to shush Dash from barking
9) roll bike down hallway manoeuvring around cleaning carts while shushing Dash from barking
10) get to elevator and if needed unhitch trailer to allow bike and trailer to fit into elevator (or do the trip in two)
11) scramble and shuffle to get all gear in elevator while trying to keep door elevator open until me and my schtuff are safely inside
12) take elevator to ground floor
13) scramble and shuffle to get all gear out of elevator while trying to keep door open to get all my schtuff safely outside
14) re-hitch trailer to bike
15) exit hotel
16) breath deep sigh of relief
So you can imagine that I must have looked a little frazzled when this morning at step 10 I hear somebody calling me by name.  Who knows me in Kingston?  Turns out Geoff – the gentleman I met and chatted with just as I left my place in Toronto!  He and his wife (Linda) were in Kingston on their way to Nova Scotia (on his way to a charity ride around the calbot trial).  What a coincidence that we were in the same town, same hotel, same floor at the exact same time!  I had to smile when he told me that I'm making good progress.  It really are simple words of encouragement like these that have propelled me almost 4,000km to date.
The first stop after leaving the hotel was a local bike shop to pick up some new gloves.  I tried to do this on my walk yesterday, but the bike shops were all closed on Sunday.  Fortunately there was a Cyclepath just down the street from the hotel and on my way through town.  In the shop one of the employees was quick to give me some tidbits of info about my next couple of days of riding (watch for the turnoff just before Brockville otherwise you could quickly find yourself on the 401, be sure to the Long Sault Parkway near Cornwall, etc).
Heading out of Kingston I was happy to see that I had a decent paved shoulder all the way to Gananoque.  This stretch (and the whole day) kinda flew by while I listened and (horribly off-key) belted out the lyrics to the following three songs on loop: Simple Man by Lynard Skynard, Sing for the Moment by Eminem and Sister Christian by Night Ranger.  I even managed to work in the occasional on bike dance move.  Although I tried to restrain myself from the dancing part when going through towns – admittedly there were a couple times it took me an odd stare or two before I realized I was amongst other people again.
Just outside of Gananogue along the 1000 island parkway I was thrilled to see that there was a dedicated paved bike path that ran along the road.  And it extended for about 50km pretty much right into Brockville!  A very peaceful day: I had a nice tailwind, relatively flat land, dedicated paved path, glimpses of the St. Lawrence and the many islands dotting the river, occasional small towns, another bridge to the States, a park by the water to rest and take a break.  That just about sums up my day.
Day 107: July 30 – Brockville to Cornwall

Daily Distance = 98.79km, Trip Total = 4,047.51km
This morning I left the hotel in Brockville and instead of leaving the key in the room and taking off I actually dropped by front desk to leave the keys.  Mostly because it was a smaller hotel and as I was leaving at 9 instead of right at checkout time I thought it would give the cleaning staff an earlier start to there day.  What a mistake.  The lady at front desk was not the same gentleman as the previous night when I checked in.  The gentleman the previous night saw that I arrived on a bike and told me that because they are an eco-friendly hotel, they offer discounts to cyclists.  This would have been great had I not already booked (and paid) for the room via expedia.  So in lieu he waived the pet fee.  The lady this morning immediately told me that I needed to go get my visa so she could extract the necessary charge.  I explained to her what had transpired the previous night when I checked in, but she was having nothing of it.  Not impressed.
Fortunately I was once again impressed with the roads today.  Although starting out I was cycling on the road (not even a paved shoulder) it was a very low travelled road and what traffic there was, was good about moving over for me.  In Prescott a paved shoulder re-appeared for a good 40km stretch, after which I was back on off-road dedicated bike trails for about 20km and then back to a paved shoulder for the last 20km.  Today I passed another bridge for the States near Prescott (these are becoming a normal day sighting!) and several war of 1812 sites.  But the highlight of the day has to be the trails through Upper Canada Village, with a couple island crossings (only accessible by bike/hike) and then the Long Sault Parkway which is a road capped at 55km/hr (with a nice paved shoulder for cyclists) that hops across 11 islands.  These islands are very quiet and peaceful and primarily used for camping, swimming, diving, sightseeing.  I believe they are part of the St. Lawrence parks and from what I could see have no private dwellings.
On these islands I also learned the story of the Lost Villages, which I have captured some of the information plaques below.  In essence at this part of the St. Lawrence there used to be rapids, but as part of the creation of the St. Lawrence Seaway (to allow ocean vessels to reach the great lakes) as well as to capture energy from the rapids there was a 4yr project to flood (controlled flood) the area and create a 48km head pond (now known as Lake St. Lawrence).  This controlled flood caused 7 villages to be relocated prior to being flooded.  Not all buildings where moved and remain under the waters of Lake St. Lawrence to this day.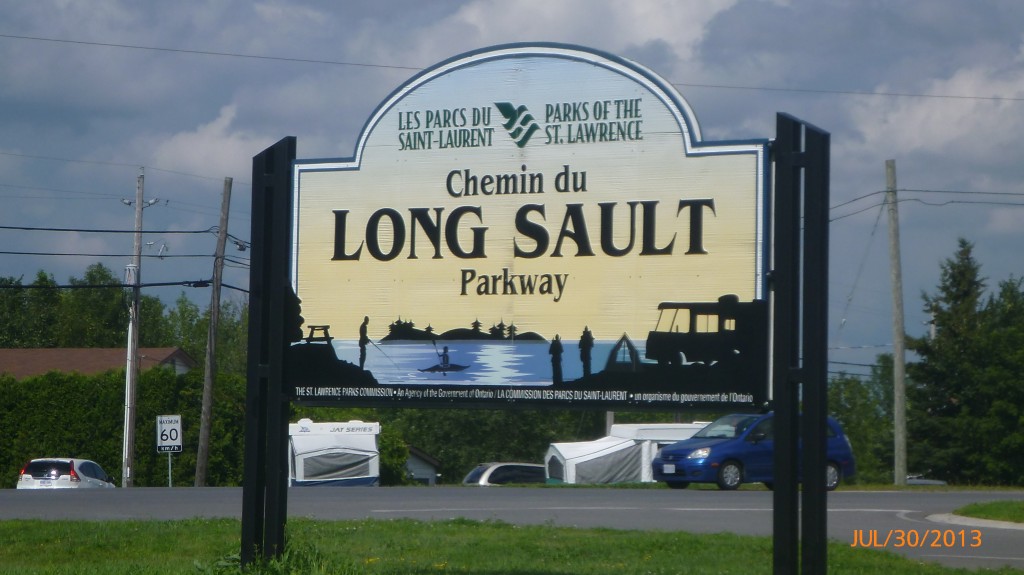 Day 108: July 31 – Cornwall to Coteau-du-Lac
Daily Distance = 63.67km, Trip Total = 4,111.18km
After a couple longer distances the past couple days (long for me at least) I was happy to look forward to a short day.  Heading out on the road the first 20km out of Cornwall was a pleasant ride along the river.  Unfortunately it would seem as though I didn't stop once in this section to take a picture (perhaps I was trying to offset the abundance of pictures taken over the past two days).  About half way through my ride I came across South Lancaster which had a Tim Hortons that I nearly jumped for joy out of my saddle at.  I didn't really realize I was getting hungry until I saw signs that I was coming into a town and I was craving real food (not protein bars).  This timmies even had picnic tables outside, so I quickly tied Dash up and went inside to get a fruit smoothie (my new addiction for the summer), a chilli and panini to go.  The fruit smoothie and chilli really hit the spot.  The panini oddly enough seemed far too greasy (I think it was the cheese), so I ended up throwing half of it out.
Back on the road I was on a south service road beside the 401 for about 20km before leaving Ontario and FINALLY entering Quebec!  I've been in Ontario for ages it seems so it felt good to cross another provincial border!  And I have heard really great things about cycling in Quebec in particular the amount they have invested in 'La Route Verte' (The Green Route) which is about 5,000km of bike paths through the province.  I only rode about 15km in Quebec today before setting up camp at the KOA West Montreal near Coteau-du-Lac.  I also called it an early night and was gladly asleep by 9pm.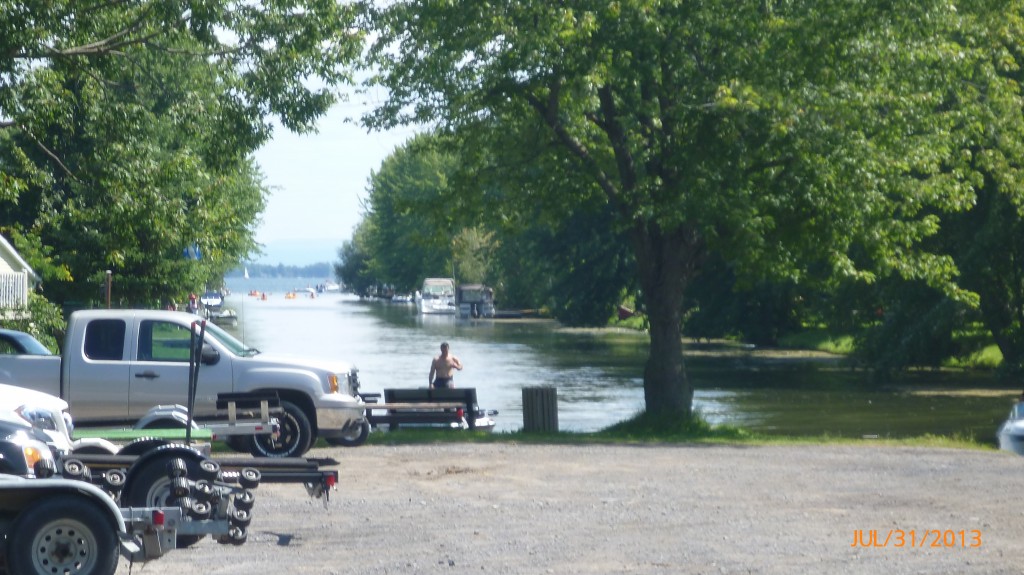 Day 109: August 1 – Coteau-du-Lac to Montreal
Daily Distance = 76.03km, Trip Total = 4,187.21km
I don't do this often, but this morning I actually had my alarm set for 7am.  I still turned it off and went back to sleep 'till 7:30, but the intent was there.  The reason for the alarm?  According to the weather network they were calling for rain all day.  Light rain in the morning with thunderstorms by the afternoon.  So I figured I'd try to get an early jump to the day and get as much of the ride in during the 'light rain' as possible.  Not that I object to the rain, but moreso that I would enjoy the scenery around me more if I was riding through a drizzle rather than a torrential downpour.  And the first 30km of my ride today was still new territory to me (the last 45km into Montreal is a ride I have done in the past so I wasn't as concerned about taking in the sights on this stretch).  Because of the rain forecast I also hauled all my bags into the tent with me last night expecting that I would be packing up in rain this morning.  I was pleasantly surprised when I woke up to see that the rain had not yet started.  Nor had it started by the time I was on the road at 9am.
The first 20km or so I cruised along a trail that followed a canal from Coteau-du-Lac to Pointe-des-Cascades.  From Pointe-des-Cascades I then headed north to hwy 20 (otherwise known as 401) where I would pick up a bike trail to cross the bridge over to Perrot Island.  From here I was supposed to continue along a bike trail, but I may have gotten a bit disoriented and circled around a bit (not for long, maybe a km or so).  It was while I was circling that I realized I needed to stop for food.  And Soon.  It's amazing how quickly your body will start to bonk and make silly mistakes when it isn't properly hydrated or fuelled.  I pulled over and ate an energy gel to tide me over until I found something more substantial.  After correcting my navigational errors (with the help of my iPhone) I was able to get back on track and quickly came across a Tim Hortons where I stopped for lunch.
After lunch I got back on the bike and crossed the bridge that would take me into the suburbs of Montreal.  It is this stretch that I have cycled in the past and it was much as I remembered – relatively flat, quiet road/path combination along the river until about 10km from downtown where I would be picking up another canal trail into the downtown core.
Around the 55km mark the winds were picking up, but they were hitting me at a cross so I just had to watch that I didn't drift into traffic.  I even passed some kite surfers taking advantage of the conditions.  I could tell at this point that I wasn't going to get to my destination rain free (nor was I expecting to when I set out today, in fact, I was quite pleased with how far I did make it without rain).  So I decided to pull over at a park and have one last break before I was hit with the rain.  It was pretty neat to watch the sky clouding over especially with the expansive views you get along the water.  After about a 15min break I got back on the bike.  About 3km later I glanced behind me to notice that visibility was reducing and I could start to see the wall of rain approaching.  I kept glancing back in awe of how quickly the storm was approaching and within a minute I was caught in a torrential downpour.  Being only about 15km away from my destination I laughed and enjoyed the last hour of my ride in the rain.
Getting to the budget hotel on St. Denis street the front desk staff were super kind.  When I explained that I had a bike with me they originally weren't sure if they were going to allow it in the room (understandable when I saw how small the room was!), but without any real convincing from me they decided that the bike was probably safer in the room rather than the street, they just asked that I bring the bike in from the back door instead of the front door so it doesn't ruin their carpets through the hallway.  Because of the small hallways, small room and stairs to get into the hotel I had to leave my bike on the busy St. Denis street while I made 4 trips to bring in my 4 panniers, trailer (after dismantling it into it's 'storage' form) and bike.  Thankfully nothing was stolen and everything is now safely stored my room.