Day 148: September 9 – Sydney to North Sydney
Daily Distance = 22.58km, Trip Total = 5,865.41km
I woke up at a reasonable hour, had breakfast, dropped off the rental car and packed up.  Packing is much quicker without all the camping gear!  I had a short jaunt from Sydney to North Sydney, for the most part taking rte 305 (except a quick detour on to hwy 125 where a bridge on rte 305 was under construction).  There was a decent cross wind today and I am already noticing the difference of not having my front panniers on the bike from the perspective of less weight (climbing hills has become easier) and the wind resistance (I'm not being buffeted by the wind as much as I was before and now have better control of the bike).  Note to self – for the next adventure, try to avoid using front panniers if possible.
I made it into North Sydney shortly after noon so I decided to walk the last couple of kilometres and give Dash a chance to stretch her legs before the long ferry crossing.  At the local Tim Horton's I changed from my cycling clothes to my everyday clothes and re-arranged my gear so I had what I would need for the ferry ride.  Shortly after 1pm I rolled up to the ferry and began the process of waiting.  I didn't actually have to be at the ferry 'till 3pm for a 5pm departure, so in hindsight I should have hung out in town until 3pm and then headed over.  I was expecting that I could check in, leave my bike and gear somewhere safe in the ferry terminal and then stroll around town handsfree but that wasn't the case.  As I was the only cyclist in line I had a fair amount of people drop by and ask about my trip or come over and want to say hi to Dash so the time passed relatively quickly.
Shortly after 4pm we began loading the ferry and I got to roll on first in line with the motorcyclists.  I quickly went to work fastening my bike to a rail with some rope and then taking Dash up to the 10th deck where I had reserved a kennel space for her.
I spent the first hour of our ferry ride watching as we pulled away from land.  It takes a while to pass by the Cape Breton Mountains along the cabot trail, so it was a nice view to watch float past.  After about an hour of this, I headed down to the 7th deck for the buffet dinner.  Given I didn't have lunch today, I was starving!  After dinner I headed back outside to watch the sunset over the water.  By now I feel like I know half the people on the ship through conversations started around Dash or over my bike trip so there was no shortage of company!  After the sun had fully set I headed into the brightly color chaired lounge area and joined a group of folks around my age (given most kids are back in school the ferry had mostly adults and was not by any measure full – I'm sure in the summer months it is a different environment).  We spent the next several hours chatting and playing cards.  Emilie is from Quebec and heading to St. John's for a year to teach french.  Bruce and Jason are friends who grew up in Newfoundland, so they were giving Emilie and I advice on things to do and see.  Around midnight we did a quick check on our dogs and then headed to the movie theatre where we each claimed our own row of seats to sleep.  There are cabins available for rent on the ship, but at $170 + tax I had previously decided to forego this luxury (that $$ was better spent changing two previous camping nights into hotel nights!).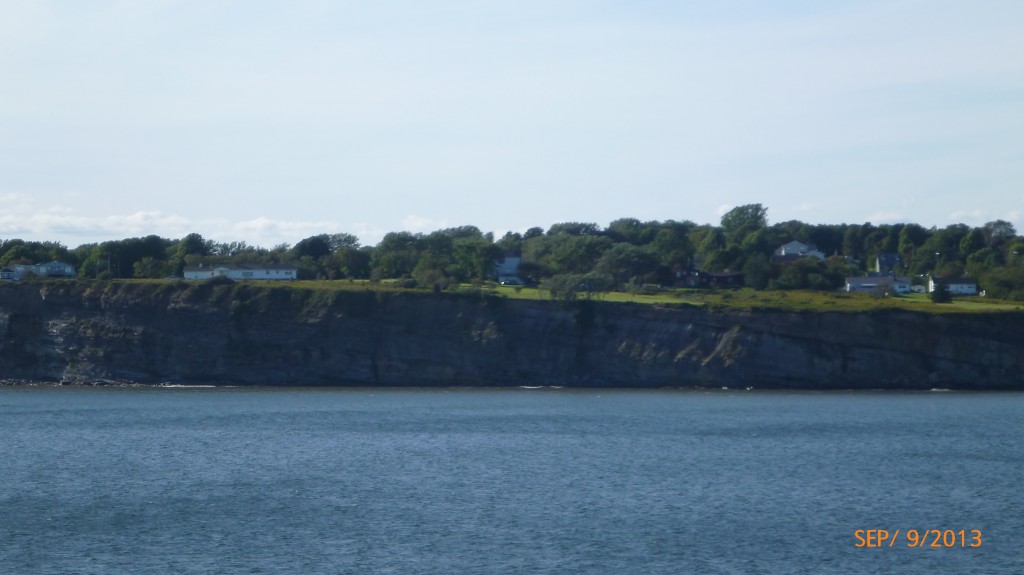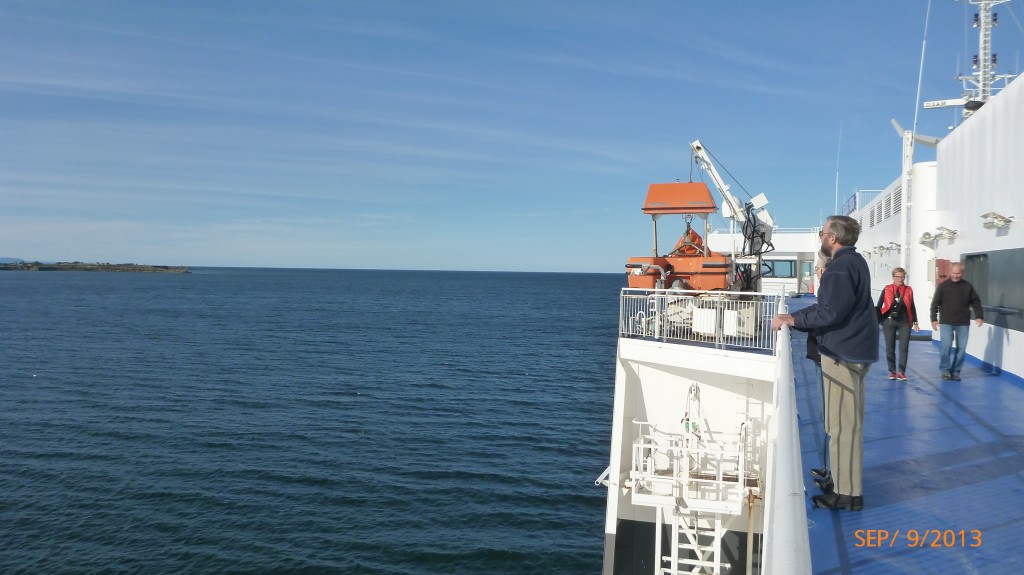 Day 149: September 10 – Argentia to Holyrood
Daily Distance = 88.26km, Trip Total = 5,953.67km
I woke up around 8:30am proving yet again that after a summer of cycling I can sleep quite comfortably just about anywhere!  After calming my original panic that the boat had already docked and I was the only one left on the ship, I was both relieved and disappointed to find out that we wouldn't be docking until 10am.  I had thought that the crossing was around 14-16hrs, so expected to be docking sometime between 7 and 9am (I guess 7:30 and 9:30 with the 1/2hr time change).  On the other hand, this gave me just the perfect amount of time to check on Dash, eat (buffet style breakfast) and then go out on deck to watch as we ported in Argentia.
From a town perspective there doesn't seem to be much in Argentia.  It sounds like much of the original town was required to relocate in 1940 when this particular area of land was leased to the US and made into a US naval base.
After gathering Dash from the kennel I headed down to my bike and was I happy that I had roped it up, because it had a pretty good lean on and would have fallen if not for the rope.  Once I got off the ferry I pulled over on the side of the road near the 'welcome to Newfoundland and Labrador' sign to re-arrange my stuff and let Dash walk around a bit.  I was hoping for a washroom facility to change, but didn't see one in the area we disembarked.  So I simply waited for all the ferry traffic to clear and did a very quick roadside change.  It was close to 11am by the time I was on the road.
Getting past the now-closed naval base, the scenery is quite spectacular with very jagged hills jutting up from the land with trees, rocks, ponds and streams everywhere you look.  I was gawking at the scenery so much I almost missed the visitor centre a few kilometres up the road.  This would have been a much better place to change, but at the very least I could use the washroom facilities.
Back on the road I really couldn't stop looking around.  Thankfully there is a shoulder on rte 100 and relatively little traffic, so plenty of opportunity to soak in the views.  For the first 5km or so I had a pretty wicked cross wind, but as the road bent and started heading NE I had a ridiculous tailwind!  I think mother nature was giving me a bit of a break after the torture she put me through this spring in the prairies!!  The next 40km sailed by.  It was hilly but I barely felt it and all because of the wind.  There were times that I was in my granny gears pushing up a hill when a gust of wind would catch me and make my pedalling useless for a couple seconds.  So when climbing my only goal was to make sure I maintained forward momentum in between wind gusts.  On flats and downhills I simply had to keep the bike upright.  Now THIS is what all biking should be!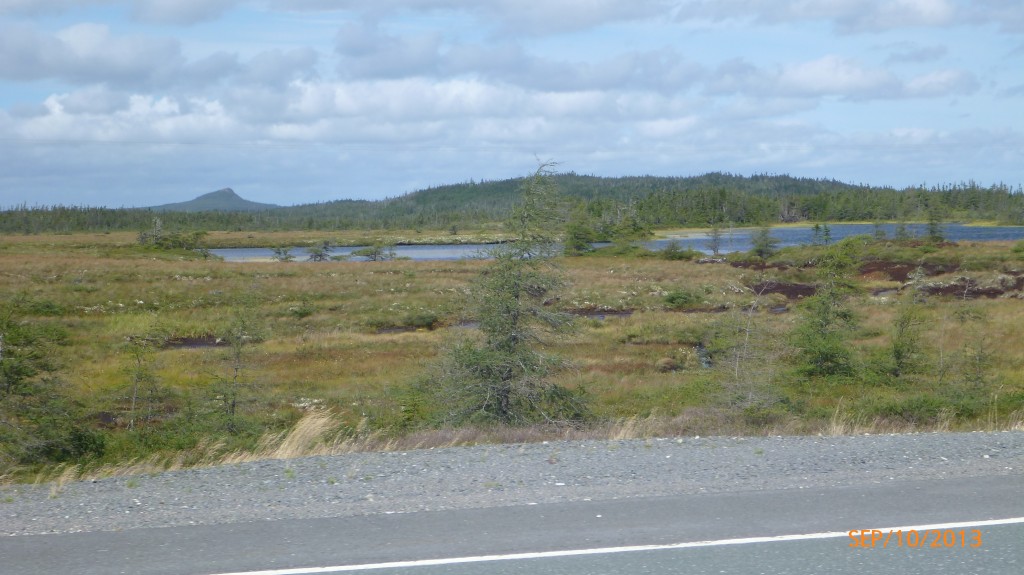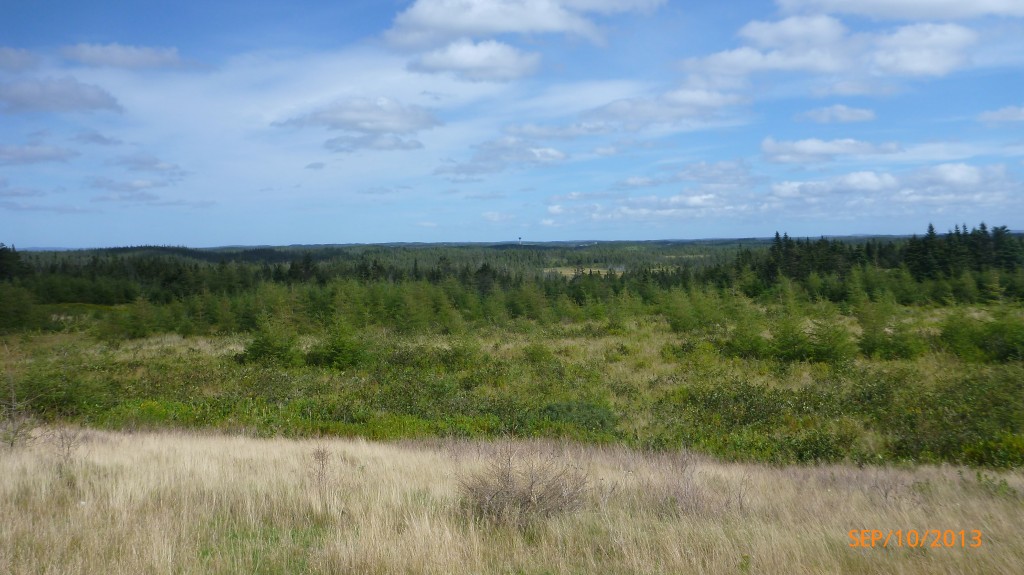 Around the 45km mark I met up with the Trans Canada Hwy 1 and my direction changed to East for about 10km and then SE for about 20km, meaning I had a bit of a crosswind.  This stretch brought me back to reality as I had to once again work for the kilometres, but I was still happy it wasn't a headwind and extra happy I had ditched the extra gear in Sydney.  Just before 80km I had reached the rte 90 turnoff which was a quieter road and headed NE into Holyrood.  Holyrood is a cute little town located at the bottom of conception bay and is apparently known for the large cross that is on top of George Cove mountain (I can't speak to how well known the cross is, but it certainly is visible).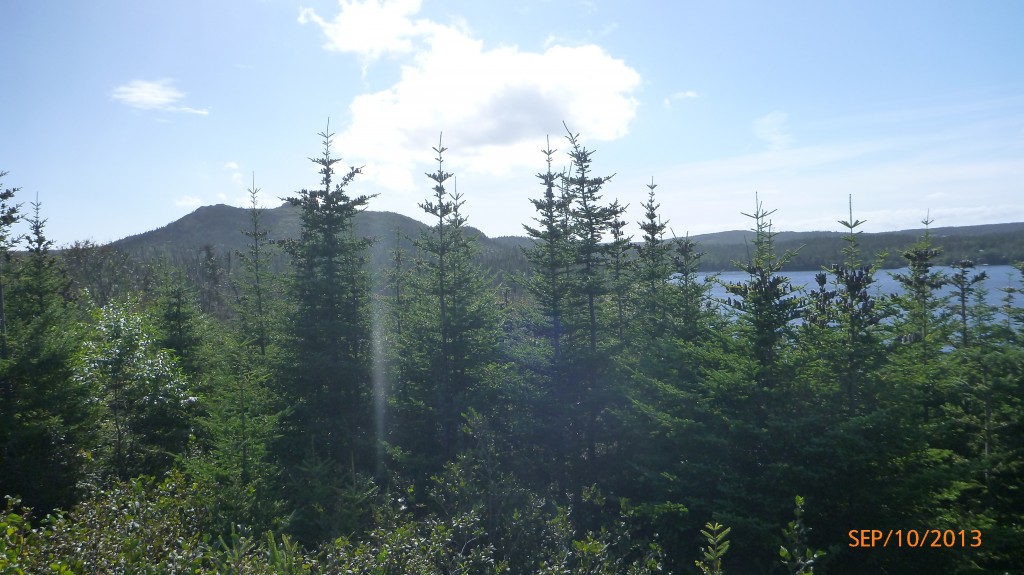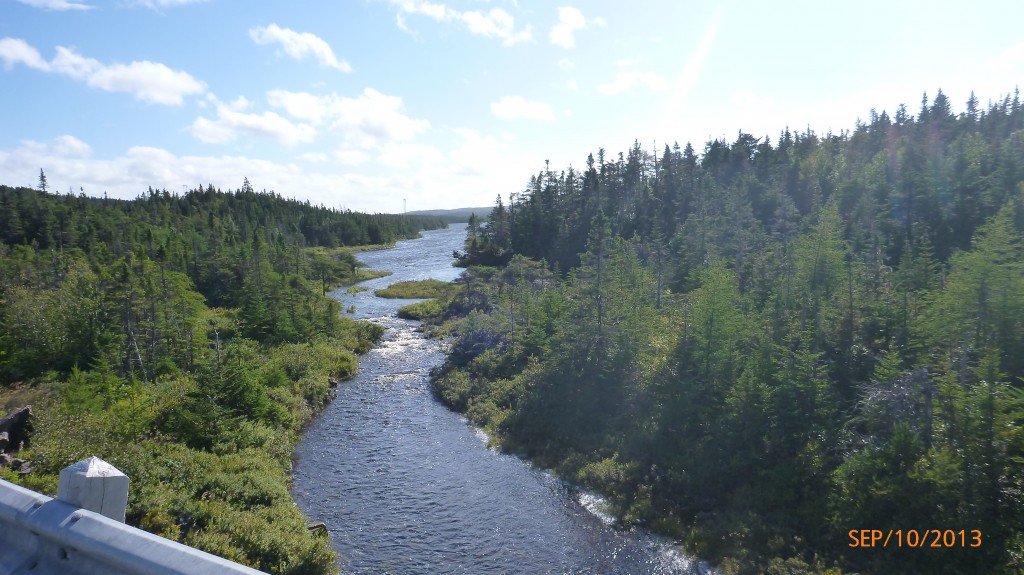 I arrived at my destination around 5pm, which in large part was due to the wind, I was pretty happy because of the mileage and late start I was worried it was going to be a late night.  After getting settled into the basement apartment (I was living large with a separate living area, kitchen area, bedroom area and bathroom), I headed down the road about a km to pick up some food for breakfast (egg salad sandwich and an apple).  Then I cooked up dinner – my last dehydrated meal for this trip and was in bed by 10pm.
Day 150: September 11 – Holyrood to St. John's
Daily Distance = 48.59km, Trip Total = 6,002.26km
After my egg salad sandwich and apple I packed up my bike and trailer and headed outside.  For the first time on this entire trip Dash did NOT bound after me when she saw me take the bike and trailer outside.  In fact, she was buried under the covers in the bedroom pretty much as far away from the bike as she could possibly be.  Even when I called her she didn't come, I had to go find her and physically carry her out to the trailer.  After 5 months on the road I think she is ready to get back home!  To be honest – I'm looking forward to coming home too, but I also still have a day's ride ahead of me and I am looking forward to a couple days of exploring St. John's.
I was on the road by about 10 eager to both savour my last day's ride and also get to the destination I have slowly been inching and crawling to for so many months!  Most of the day was spent on rte 60 which heads NE along the bay and then east towards St. John's.  I was expecting this to be a relatively quiet country road, but the area is dotted with houses and little towns along the way, so it was actually busier than I anticipated.  I really expected traffic to get lighter when we reached the area where Hwy 2 starts, this I would assume is a quicker way into the city, however I didn't really notice any decrease in traffic.  Eventually the road did become two lanes in each direction which relaxed the ride for me as vehicles had another lane to move over to in order to get around me.
Today's terrain continued to be hilly and the wind was not nearly as strong as yesterday, so it was my own leg power that was getting me up and over the hills today.  Heading into the St. John's city limits I stopped to take a picture of the sign.  I haven't taken pictures of many of the city or town signs along the way (kept it more to the province crossings), but this one seemed monumental even though it was a basic green and white sign.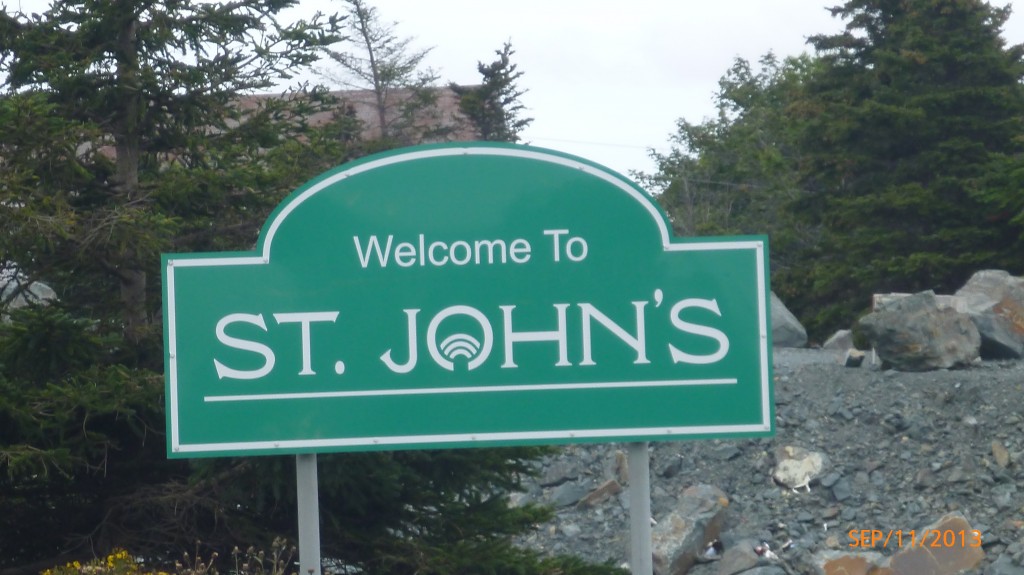 After taking the picture I continued on my hilly way to 1 water street.  This is the very spot that Terry Fox dipped his leg in the atlantic and started his cross Canada trek in 1980.  There is a monument here with a larger than life statue of Terry with one of his quotes inscribed "I just wish people would realize that anything's possible if you try; dreams are made if people try".  There is also a Mile Zero plague.  It's official, with some modifications, I have self propelled myself just over 6,000km from the mile zero sign on the pacific coast to the mile zero sign on the atlantic coast.  I'VE BIKED ACROSS CANADA!  I'm not as eloquent as Terry, so my thoughts at this moment are more along the lines of: "holy crap, I made it!  I actually made it!  This is freakin AWESOME!!!"  I was quickly brought back to reality when a trio of folks came by and told me to 'move your bike 'cuz it's in the way of our picture'.  Not exactly the greeting I was hoping for.  I moved my bike, they took their picture and continued on their way.  A few minutes later two ladies came by and curious about my bike asked where I was headed to or where I came from.  After I explained the trip they congratulated me and said we need to do something to celebrate.  I asked if they could take my picture which they kindly did (on my camera and theirs).  They are from Vancouver and on a 17 day cruise that started in Europe, went to Greenland and are now on the finishing stretches in Canada.  It sounds like they had a couple rough days at seas but they shrugged if off saying what can you expect on the north atlantic ocean.  Much happier travellers than the trio that had just dropped by!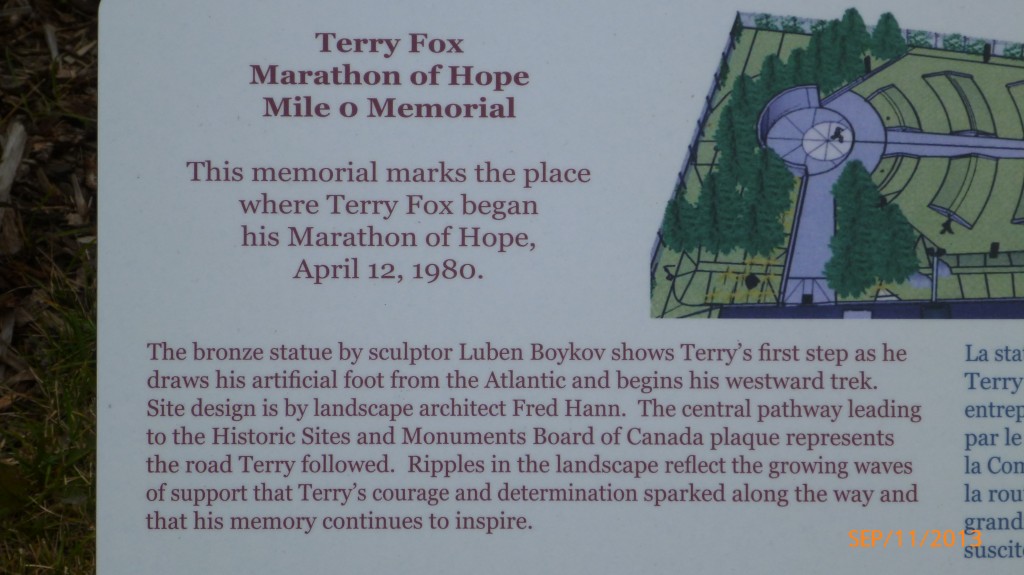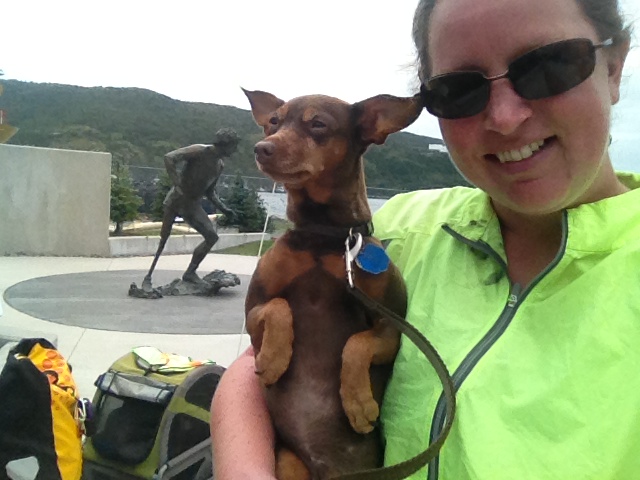 I spent about an hour at this monument simply soaking the moment in.  I did snap a quick picture on my iphone and emailed it to my family – partly as evidence, but more so to share the experience.  Unfortunately access to the Atlantic is fenced off in this entire area, so I wasn't able to dip my tire in the Atlantic as I had on the Pacific.  At some point in that hour it sprinkled for a few minutes, seemed fitting to have a little bit of rain on my last ride day in the maritimes!
Eventually I pulled myself away from the monument and set my sights on the hotel about 4km away.  As I started pushing my bike up the hill just a couple hundred metres from mile zero a car pulled over and who should step out?  Emilie from the ferry!!  She was driving around getting herself oriented with her new home town when she saw Dash's green trailer and had to pull over to say hi.  We chatted for a bit and then headed our separate ways.
I arrived at the hotel around 3:30pm and had a very mellow afternoon of doing nothing.
I'm here, I made it!!
Thank You:
Now I owe a whole whack of thank you's as this trip would not have been as smooth or successful if it was all left up to just my devices:
1) To my friends and family – for your complete and unending support and encouragement.  Your emails, texts, calls, comments on facebook and the blog have been with me for every single pedal stroke across this country – I know it might have looked like I was alone on the road, but I really wasn't because I knew everybody back home was supporting me.  I can't thank you enough for this.  Also – thank you for letting me talk and ramble endlessly for the past several months about nothing other than cycling!
2) To all those who waved, honked, fist pumped or gave a thumbs up as they past me on the road – every time a smile would come across my face, I would remember how lucky I am to spend my summer doing something I enjoy and it would make my legs pedal just that tiny bit faster.
3) To those I have had the opportunity to stop and chat with for a bit – your enthusiasm over this trip and/or Dash, your thoughts and wishes, your helpful pieces of advice about the road ahead or things to check out in the area and meals or rides offered were always appreciated (even if not always taken).  The kindness and thoughtfulness of the people I have met along the way has been incredibly refreshing.
4) To the land of Canada – part of this experience for me was not just to say I've biked across Canada but also to see and explore this great country I was born and raised in.  From the mountains, lakes, prairie grasses, rivers and forests the scenery has made for an amazing summer playground.  I feel as tho the topography of this land will be forever etched in my brain now that I have had the chance to travel across the majority of the country using nothing but a bike, my own legs and a lot of sweat, blood and tears (minus the blood and tears, but I made up for those with sweat!).
5) To my bike and trailer – for not having any breakdowns that I (or duct tape) couldn't fix.
6) To Dash – for providing me a companion on this journey.  It was pure selfishness that made me want to bring her along and she has handled the journey far better than I could ever imagine or have asked for.
7) To the wildlife – it was great seeing you along the way (moose, bald eagles, whales, wolf, elk, etc), it was even better not being attacked by any of you!
8) To fellow cross Canada tourers, the ones I had the chance to meet on the road and the ones I only read of through blogs or heard of through the locals – you gave me tidbits on the terrain and road conditions ahead, a sense of calm knowing that I wasn't the only one struggling with prairie winds and comfort knowing that I wasn't the only one crazy enough to tackle such a journey!  In particular I found the following site www.bikingacrosscanada.ca a useful resource as it has links to blogs of other cross canada tourers.