Day 55: Jun 8 – Winnipeg to Kenora
I left the hotel nice and early at 9am (early for me on vacation mode at least)!  And headed over to the Winnipeg airport to pick up a rental car.  This is the part where my cycling adventure becomes a road trip because quite frankly, cycling Northern Ontario solo TERRIFIES me for the following reasons:
1) Very remote – some towns (and accommodation options) are 100+ km apart.  Given I am only tracking about 70km a day, this means I would have had to guerrilla camp (camp on the side of the road) several times.
2) Narrow or non-existent paved shoulders on a highly trafficked road
3) Wildlife!  Pre-trip this fear was of bears, however mid-trip it has shifted to ticks! lol!
It took about an hour to pack all of my gear into the car, after which I ran some quick errands – groceries, food for dash, bank machine – and started heading east to Kenora!  About 100km out of Winnipeg the scenery started changing with more trees, rolling hills and rocks (signs of the Canadian Shield).  Another 50km or so and lakes started mixing in with the trees, rocks and hills as well!  This would have been a fantastic stretch to take in the scenery at the much slower speed of a bike and the shoulder was still relatively decent to ride on at this point (even though the highway does change from a 4 lane divided highway to a 2 lane highway).  Unfortunately I wasn't able to find any one-way car rental options out of Kenora.  Oh well.  The scenery was still quite amazing to take in.
When I arrived at Kenora I quickly ditched my stuff at the hotel and headed down to the lake to dip my toes in and just absorb the view around me.
Day 56: Jun. 9 – Kenora to Thunder Bay
I spent a pleasant hour walking the waterfront of Kenora.  After this walk I then got back in the car and continued heading east.  In Dryden I stopped for a picnic lunch.  My only other real stop of the day was Kakabeka Falls before heading into Thunder Bay for the night.  The scenery really is phenomenal.  Trees, rocks, water and hills everywhere!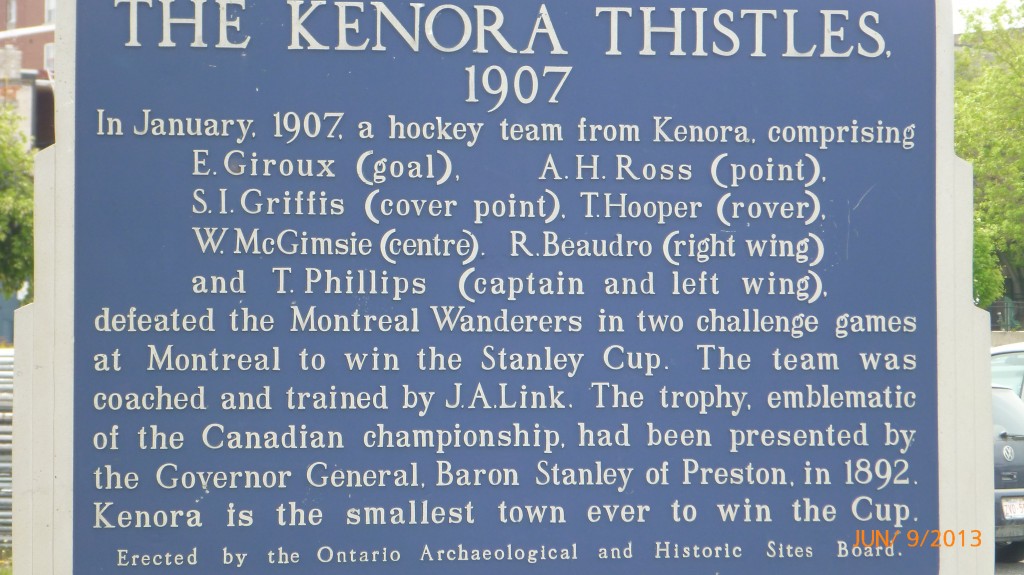 Day 57: Jun 10 – Thunder Bay to Wawa
I spent the first hour walking along the waterfront of Thunder Bay while listening to the sound of a ship slowly coming into port.  I say listening, 'cuz it was very foggy this morning so I could only faintly make out the outline of the ship in the distance but I could certainly hear its horn!

After checking out Thunder Bay I was back in the car.  Next stop – the Terry Fox Statue.  It was just East of Thunder Bay that Terry Fox had to stop his cross country marathon due to a reoccurrence of cancer.  The statue stands on a bed of amethyst (found locally in the area), the determination that they have captured in Terry's stance through the statue is quite spectacular.  I spent about 10 minutes here absorbing and reflecting in the moment.
Next stop for the day was Ouimet Canyon.  This was a recommendation from my parents and was pretty impressive to see – even if my view was somewhat limited by the fog around me!!
My next highlight of the day was seeing not one, not two, but three moose!  They were all on different sections of the highway, grazing.
My stop for the night was Wawa which is a cute little town inland from Lake Superior just a bit, on Wawa Lake.
Day 58: Jun. 11 – Wawa to Sault Ste. Marie
There were a few pull offs along the highway that called to me today, so I made a few stops.  The first stop was a beautiful beach view of lake superior, the second stop was at Agawa Rock which has some Indian Pictographs on the cliff – unfortunately the edge to this cliff is slanted and goes into Lake Superior – had it not been raining all morning I would have gone out to take a look at the pictographs, but with the slippery conditions I thought it best to pass this one over.  This decision was further supported when I slipped on a wet slanted rock on the trail back to the parking lot – fortunately there were other rocks to stop me from going into the lake! lol!  Another stop was at Aloma Bay pull over (a view of lake superior) and another stop at Chippewa Falls.  The stretch between Chippewa Falls and Wawa is known as "the gap" because it was the last stretch of the Trans Canada highway to be completed due to the rugged terrain and hard granite rock.  This stretch was completed in 1960 – I didn't realize it was so recent that the trans canada highway was finished.
Day 59: Jun. 12 – Sault Ste. Marie
I dropped off the rental car at the Sault Ste. Marie airport and got back on my bike for the 20km ride downtown.  It felt SOOO odd riding my bike without all the gear (just Dash with me for this ride)!  Getting downtown I headed over to Mary's Island and Whitefish Island to check out the canal and lock.  This is the channel where Lake Superior and Lake Huron connect.  On my walk I learned that Sault Ste. Marie has an Emergency Swing Dam, one of only 9 that were built in the world and the only one that was actually put to use in an emergency:
Now that my blog is up to date I'm going to head down to a patio on the water and have an early dinner and perhaps a daiquiri or two