Day 22: May 6 – Olympic Park
After breakfast my first task of the day was to see what gear I wouldn't be needing anymore so I could send it home with my parents.  The original hope was that my extra layers (mitts, wool socks, wind pants, long pants, sweaters, etc) would only be required through the Rockies, but now I'm not so sure.  I still sent most of this gear packing…I guess I can always pick it up again if needed, right?
The second task of the day was to clean the RV and rid any evidence of Dash.  This included washing the linens (thankfully our campground had laundry facilities), mopping the floors, cleaning the windows (where Dash sometimes leaves smudge marks) and searching the interior for any places she may have hidden kibble.
With the chores of the day out of the way, we grabbed a quick lunch and headed over to Winsport Olympic Park to check out the bobsleigh and luge rides.  This was something I was REALLY looking forward to!  Unfortunately when we got there we were informed that they are in the process of switching the track over from the winter track to the summer track and will be closed until May 17.  Booooooo!!!
Instead we settled for climbing the hill where the track ran.  We ended up getting on to a mountain bike trail to avoid being on the road.  At the top of the hill we sat and observed the view for a while as Dash dug around in the mud.
That night we picked up a couple more drinks, headed to a local pub for dinner and settled in for an early night.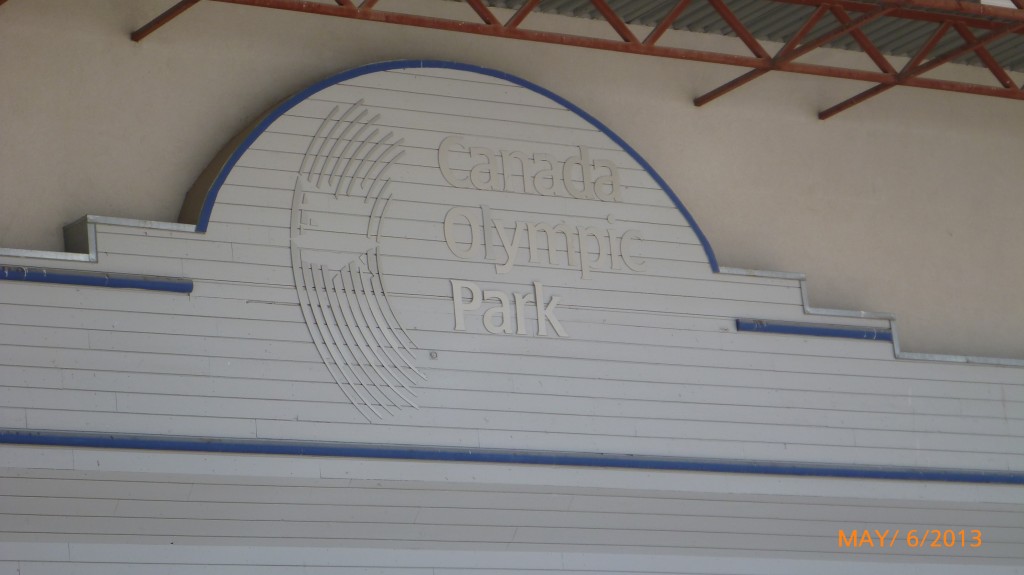 Day 23: May 7 – Dropping off my parents and the RV
Waking up at 4am (not intentionally, Dash apparently couldn't sleep and felt the need to wake me up), I managed to also wake up my parents.  Because we were all up we decided to head to the airport early.  However as we were all very tired, we were quite slow moving so ended up not leaving the campground until 5am anyway (when we were originally planning on heading to the airport).  It's been great having my parents around as a support crew for the past two weeks, it was the perfect way of easing into this journey!
Dropping my parents off at the airport I headed back to the campground to go back to sleep!  Waking up around 9:30 I took Dash for a walk, grabbed breakfast, topped up the fuel in the RV and headed to my hotel for the next 4 days.
When I started loading my gear into the hotel I noticed a somewhat peculiar smell but didn't pay much attention to it.  After everything was in my room and I closed the door the smell became more and more funky.  After a few minutes Dash started sniffing around so I went to check out what she had found.  Low and behold – two dirty diapers under the foot of the bed! Ick!  I immediately went to front desk and explained my findings.  He didn't even bat an eye, instead found me another room and asked if I wanted to check it out before moving everything over.  The second room smelled much better and although not as clean as I'd like, it didn't have any bugs or dirty diapers so I moved all my gear to the new room.  I think I will not be booking any more hotels at this chain!
Once settled into the new room I left Dash behind and headed out to drop off the RV.  It was a pretty smooth drop off process with no issues and no detection of my dog having been there!  With the paper work complete, I hopped on my bike and headed back to the hotel where I started the process of uploading pictures and updating the neglected blog.
Day 24: May 8 – Downtown Calgary
After sleeping in, I headed out for a leisurely stroll do the downtown Calgary area.  The main goal was to drop by MEC to pick up some supplies I would need for the next lag of the trip including protein bars, fuel for my campstove, hydration packs, dehydrated food, a lighter, facecloth, waterbowl for Dash (her previous one has a leak in it), more sunscreen and toothpaste.  However on the way I came across a trail that ran along the bow river and ended up leading to a park very near the downtown core (Prince's Island), so I obviously had to meander through here!  After having enough park time I finally headed over to MEC to pick up my supplies and go back to the hotel.  I picked up some food on the way home (an albertan beef burger!) as it was around 7pm by now and Dash and I had probably covered about 15km today (so much for a rest day!).
After polishing off the burger I headed to the hotel's pool and hot tub – now that's relaxation!!
Day 25: May 9 – Email and Blog catchup!
Nothing exciting to report today – other than a short walk for Dash I spent the whole day getting caught up on emails, my blog (it is a timely process but the momento that I will have of this trip is certainly worth it and my legs can use the R&R!), researching weather across the prairies (will flooding be a concern, what are the overnight temperatures dropping to?) and looking into things of interest I might want to check out in the coming days.
Day 26: May 10 – Horseback Riding
With my last full day in Calgary I decided to take the opportunity go an a horseback ride!  This was something I'd never done before and it felt like
something I should experience out West.

 I found a place called Horsin Around on the SW edge of Calgary that offered 45min rides for $35.  No clue if this is a good rate, but seemed reasonable to me.  I contemplated biking the 23km to the stables, but decided to be lazy and take transit.  It was about an hour and a half train, bus and walk to the stables (would have taken about the same amount of time on bike tho, so this was a-ok with me).
The folks at the stable were incredibly friendly and as I was the only one who was going on the 1pm ride they were quick to have me sign a waiver, get a helmet and got on my horse named Moose.  My guide Jessica was riding a horse named Penny.  After a very quick lesson on how to start, stop and guide the horse right and left we were out to the fields!  For the most part Moose just followed the guide horse (Penny), so I don't think I really did much (this was for the best I think).  But when we went up a couple of the hills we did actually move the horses into a trot (vs a walk) – quite an experience to feel how powerful these animals are!  I have a new respect for those who ride these animals at a gallop!
Forty-five minutes for my first time out was the perfect amount of time, Moose was a super calm horse and Jessica and I had a great little chat while we were on the trail (she's originally from Barrie, having moved out to Calgary 2 years ago to be closer to the mountains).  I may have to go on another horse ride sometime during the summer, this was certainly a highlight of my time in Calgary!
Another attraction that I originally wanted to check out while in Calgary was the Heritage Village, unfortunately it is not open for the season until May 18 (is anybody noticing the trend here?).  They still have the 'Heritage Square' open, but my research online indicated this was a very small version of the real deal so I decided to skip it altogether.
Reflections on the ride from Vancouver to Calgary
I would completely do this leg of the trip again 'cuz there is SOOO much to see and do.  It would be nice to actually bike the whole thing (and not rely on the RV), however I would do so under the following conditions:
1) I wouldn't ride this section solo – it's doable, but the motivation of another cyclist (or two or three or more) would be helpful on some of the steady inclines.
2) Allow 4 weeks and only try to cover about 40-50km per day – this would allow plenty of time for exploring local wineries, trails, hot springs, etc.
3) Wait until at least mid-May before leaving Vancouver to allow warmer weather through the mountains and ensure more of the attractions, trails and campgrounds are open.