April 3rd – Pre-Practise Run
The first obstacle with the practise run actually started the day before we started riding.  And that obstacle was: packing up all the gear.  I had rather ambitious plans of having all my gear properly organized, packed into my panniers and ready to hit the road for the 3hr drive to Sauble by noon.  Needless to say, this didn't happen.  Wednesday morning I amalgamated all of the gear I have been accumulating over the past several months in my living room and quickly realized it would be easier to pile everything in the car and make this a group effort in Sauble!
Wed. night Gail and I arrived at my parents place in Sauble Beach, grabbed some dinner and began the exciting task of trying to bring some organization and structure to all the gear.  At midnight we called it quits and decided to start again in the morning (thanks to Gail and my folks for being such good sports with helping me get everything ready!!!)
April 4th – Day 1 Practise Run – Sauble Beach to Port Elgin
The first official day of our trial run started with a couple hours of fitting the
new panniers (front and back) to the respective bike racks.  Once this task was completed we started piling gear into the panniers until we ran out of space (probably got about 85% of the gear on the bike) and then hooked up Dash's trailer and put air in everybody's tires.  By 11:30 we were ready to venture out.
Given the late start to our day, the cooler temperature and the strong wind we still managed to cover a respectable 60km by 6pm.  The first 30km we were fighting a very strong headwind and I was quickly re-adjusting my expectations on just how quickly (or should I say slowly?) I will be crossing Canada this summer!  Prior to the practise run I was targeting somewhere in the range
of 13-15km/hr, but getting on the bike with the weight of the gear and trailer (in the neighbourhood of 110lbs not including the bike itself) I've reset my expectations closer to the 10km/hr mark.  Hopefully as my muscles build over the summer this will get faster, but for now I will set the bar low!
April 5th – Day 2 – Sauble Beach to Howdenvale
After a couple more minor adjustments to my bike (adding a second set of handlebars to give my hands/wrists a couple different riding positions to hopefully reduce nerve damage, moving my mirror and tightening my seat post) we were on the road by 10am.  Today we headed north from Sauble originally with the hope of getting to Lion's Head for a late lunch (approx 45km one way) and then loop back to Sauble.  However with the temperature floating around -2ºC, our fingers and toes were not particularly fond of this idea.  Just over the 20km mark I was able to convince mom and Gail that we should turn around.

 In total we travelled 46km with an average moving speed around 15km/hr.
April 6th – Day 3 – Cruising Sauble
With just over 100km covered in the first two days I was feeling comfortable that I had accomplished out of this trial run what I was hoping to.  All of my panniers are fit well to my bike, I got a sense of what the weight feels like, Gail and I practised using clipless pedals (and neither of us fell!), Dash seems to be comfy in the trailer, I've learned that I am not very aerodynamic so headwinds are going to be tough and hills are going to be a challenge due to the extra weight (I sense I will be walking up a lot of hills).
So on day 3 when the temperatures were chilly again, we decided to make it a light riding day (10.5km) and instead hopped in the car and spent the afternoon doing some mild hiking and sightseeing in Wiarton and Cape Crocker with dinner in Lion's Head, drawing a successful end to our practise run.
Check out all the Practise Run pics on Flickr here.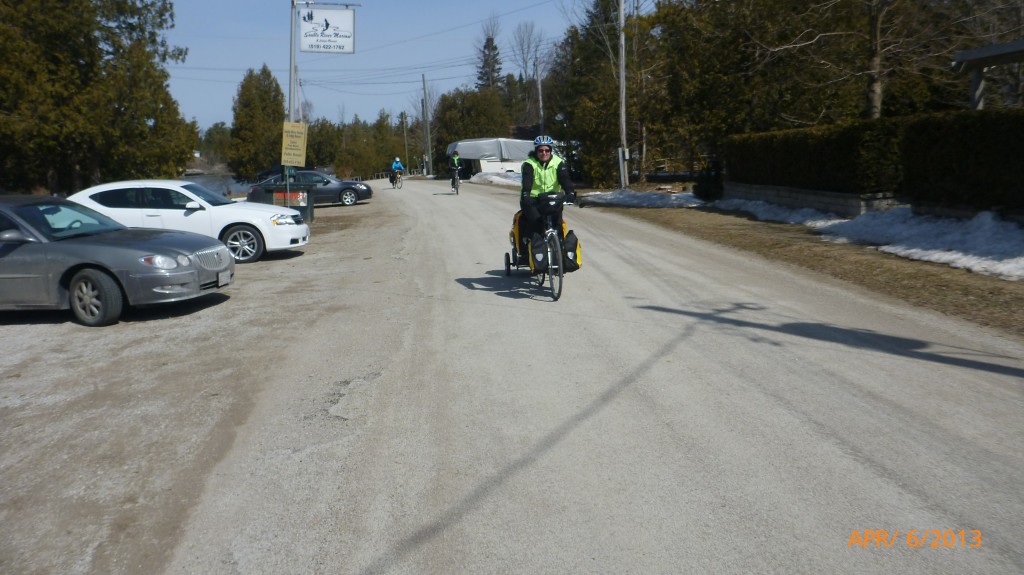 Our attempt at an action shot – don't let the fact that I'm ahead of my mom and Gail fool you – this was the only time out of the 3 days that I led