Day 134: August 26 – Prince Edward Island
This morning I was looking forward to picking up a rental car for a few days and do a quick scoot around the East Coast to some of the areas that were a bit further out of the way from my intended route and I felt needed to be checked out while in the area.
Before picking up the rental car I somewhat hesitantly asked the folks at the Comfort Inn in Amherst whether they had a safe place for my bike for a few days.  They were very receptive to this request and offered up some floor space in the electrical room.  Much better than taking the bike apart and fitting it in the car!
After a surprisingly smooth process of picking up the rental car and packing all my gear into the car I was off to PEI via the 12.9km confederation bridge which connects the island to the mainland.
My first stop in PEI was Summerside – a cute little town on the south coast where I picked up a salad from Wendy's and walked along the waterfront boardwalk for about an hour and checked out the wharf area.  After Summerside I headed to Cavendish on the north coast.  I'm sure most people know this is where author Lucy Maud Montgomery was raised by her grandparents and is the background for the Anne of Green Gables novels.  I can't say I've ever read the novels, or watched The Road to Avonlea TV series (that I can recall) however I've heard the scenery in this area is spectacular, so I had to check it out.  I wasn't disappointed.  The red rocky/sandy cliffs and ocean views are spectacular.  I spent about 4hrs checking out different little pockets in the area, hiking and in some cases just sitting around taking in the view with the sound of the water as my music!  I also did a super quick (about 15min) tour of the Avonlea Village where my main highlight was stopping for a COWS ice cream – voted best ice cream in Canada by Reader's Digest.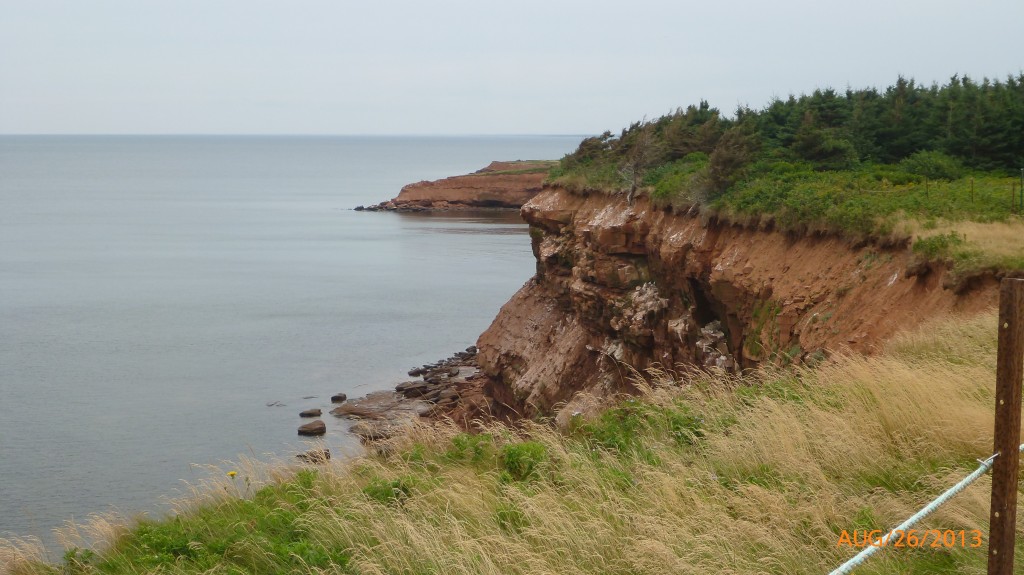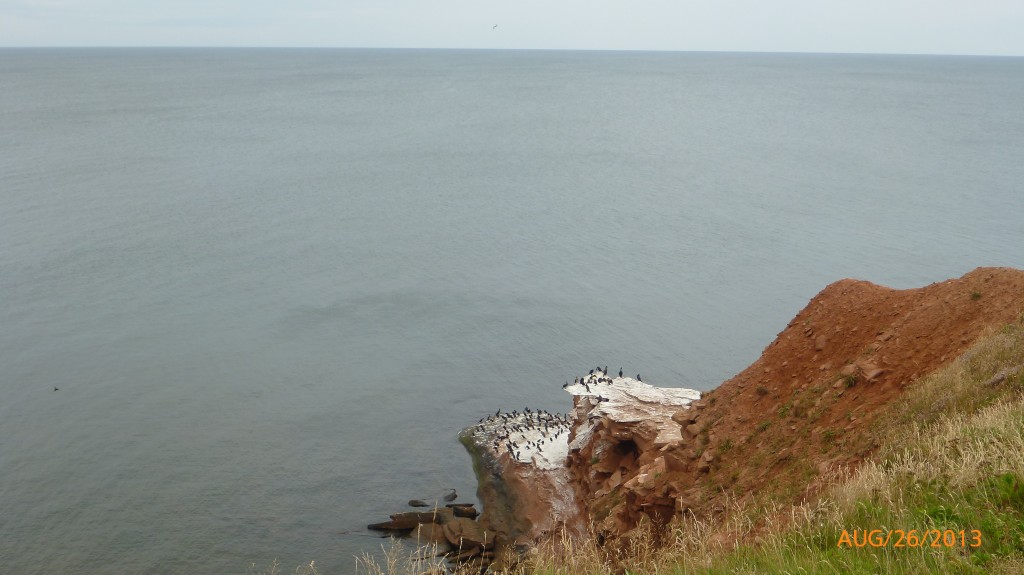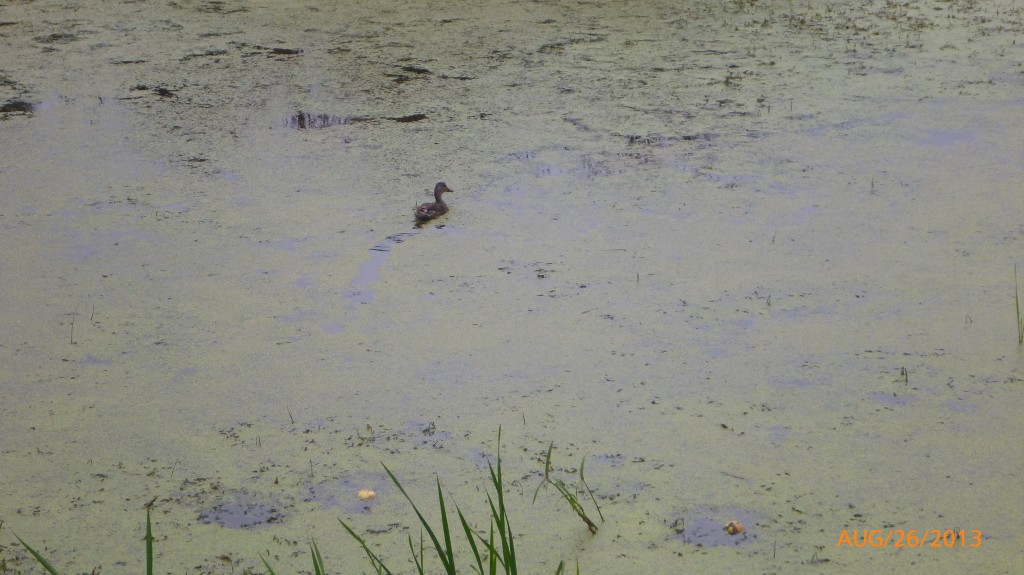 After leaving Cavendish I headed to Charlottetown, checked into my hotel, grabbed some dinner and quickly fell asleep.
Day 135: August 27 – Halifax
It was about a four hour drive from Charlottetown to Halifax, my first destination in Halifax was MEC for my final major supply re-stock of the trip!  And I really didn't have much to pick up, just one more dehydrated food dinner and a handful of protein bars, energy gels and energy jubes.  It was good that I only needed a quick stop because I was having a hard time finding parking downtown Halifax and ended up making my own parking spot in front of the store.  I wasn't blocking anybody or in anybody's way so as long as a parking attendant didn't come by I figured I'd be ok.  I immediately then headed over to the hotel, checked in and took a couple hours rest – driving seems more tiring than cycling sometimes!
Around 6pm I headed out for a stroll and walked around the Halifax Citadel a large fort in Halifax that sits atop a large hill near downtown.  The views from here are not to be missed if you are in the area.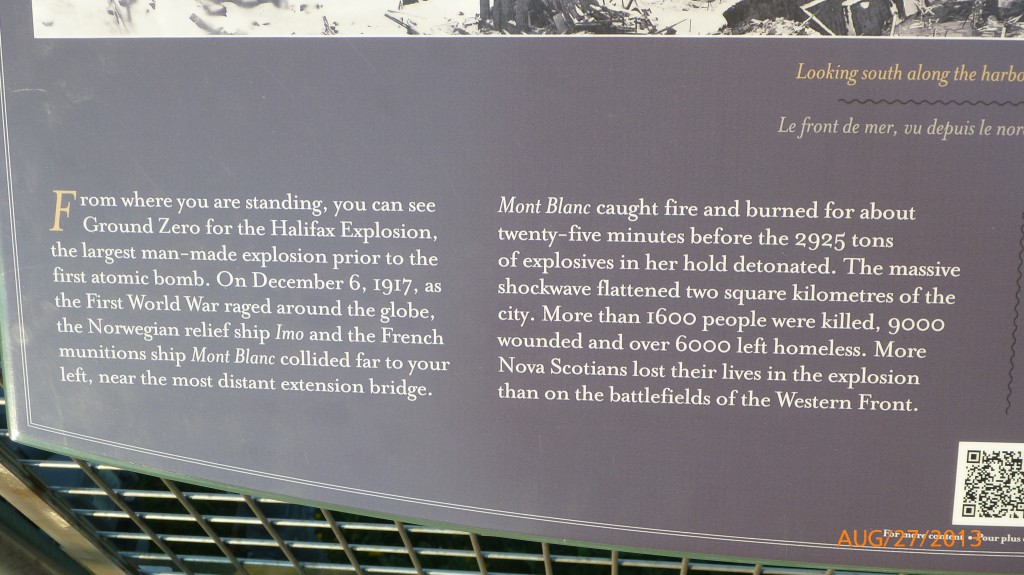 My next stop was the downtown core where I spent a couple hours walking (very slowly) along the waterfront boardwalk.  I was hoping to catch some of Signal Hill's (an east coast band) set at the Lower Deck, but I was too tired to hang around beyond 9pm so I had to pass on that opportunity.  I did however take the opportunity to try a Beaver Tail – a fried doughy pastry that is stretched into the shape of a beaver tail with different toppings (my choice was hazelnut spread with reese's pieces).  Otherwise it was a pleasant early evening strolling along the water.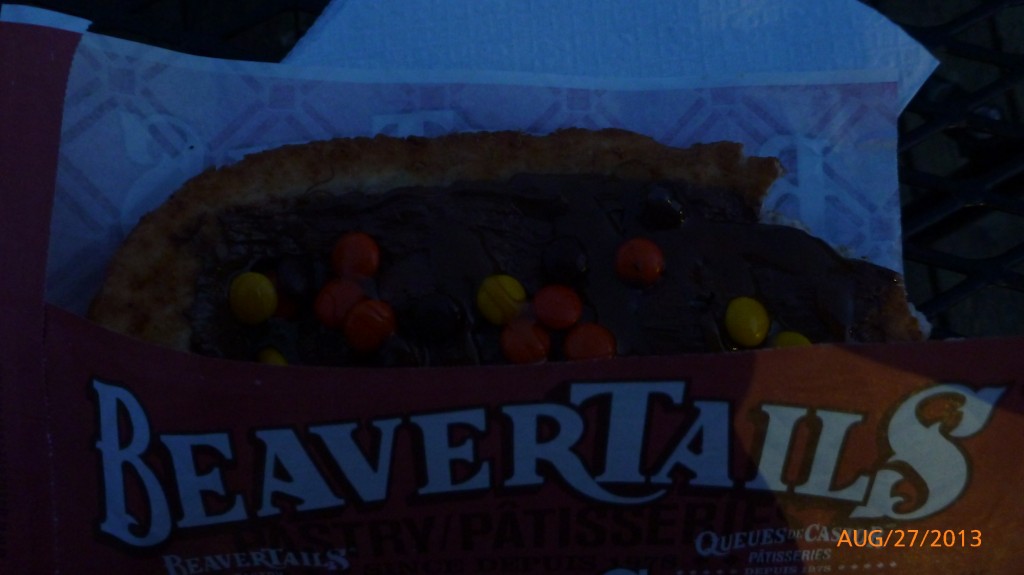 Day 136: August 28 – Digby & Digby Neck
My goal was to be on the road by 9am today, but surprisingly enough I woke up before my alarm and was on the road shortly after 8am.  I had another 4hr drive ahead of me today as I was heading to Tiverton (a very small town on Long Island in the Digby Neck area) to go Whale Watching.  This is an excursion I have been looking forward to for a LONG time!  I was scheduled for the 2pm excursion which meant I would have to be at the ferry to cross over to Long Island by 1:30pm (the ferry only leaves once an hour on the half).  I actually made it to the ferry by 12pm and was just getting ready for the 1/2hr wait when the ferry made an unexpected trip and took us on the 5min trip across to Long Island at noon.  Apparently there was an overload of traffic from the other side (which crosses once an hour on the hour), so they had to go back to pick up the overload anyway.  I stopped in at the Ocean Explorations office where I was informed that they still had space on the 12:30 excursion – how is that for things falling in to place?  I told the lady that I had a dog in my car and asked her if there was a shady spot to park, she immediately walked me over to a driveway that had a canopy of trees.  She did offer to leave Dash in the office, but given Dash's sometimes yappy nature I wasn't sure that would be a good idea when they are trying to run a business.  Regardless, I left the windows wide open, it was foggy and overcast and only in the mid-teens temperature wise, I left my keys with the lady at the office just in case the car needed to be moved and she also offered to check in on Dash once and a while – soooo kind and accommodating!
After I knew Dash was going to be in good hands it was pretty much time to get ready for the tour.  I was going on a zodiac so there were only 12 of us (plus the tour guide Tom) on the tour.  We were all given flotation suits to wear (not just a life vest or jacket, but a full suit with long sleeves, long pants and a hood).  I chatted a bit with an elderly couple who were sharing some of the same nervous excitement I had!  We walked down to the docks and watched as our tiny, tiny zodiac pulled in.
After we were all settled in the zodiac Tom was quick to pull us away from the docks and we were heading out into the Bay of Fundy.  Tom told us to keep our eyes peeled for any sightings and to let the group know if any are spotted.  The zodiac can travel at a speed of about 20-30km/hr, so the ride alone was quite a thrill.  About 5min in we spotted a spec ahead of us, as we got closer we saw that it was a grey seal.  Tom was quick to tell us that we can look for seals later – right now we want to find whales or dolphins!  About 20min later of zipping along the bay we started to spot fins in the distance – sure enough – dolphins.  Atlantic white-sided dolphins (as per Tom).  They were jumping out of the water everywhere – but I was always too slow with the camera so I think I only got some pictures of fins and the water disturbance after they jumped!  Oh well!  It was pretty cool, the dolphins actually seemed a bit interested in playing with us and 'swimming' with the boat for a while as they quite literally followed the boat jumping on either side of us.  After about 15min of this Tom told us that he was going to pull the zodiac away from the dolphins so we could continue looking for whales.  Once we were removed from the school of dolphins Tom shut off the zodiac and told us to listen for the sound of a whale blowing water out of its blowhole.  Because it was a bit foggy our visibility was  reduced so he thought this would be the quickest way for us to find some whales.  No less than 1 minute after the zodiac was shut off we all heard a noise to our left.  Tom quickly turned the zodiac back on and off we were – looking for whales!  A couple minutes later we saw them!  A group of 4 humpback whales hanging out near the surface of the water.
As per Tom, these humpback whales spend their summers in the bay of fundy primarily eating.  They will usually spend about 5-8 minutes breathing near the surface and then they will go under to eat for about 5-8 minutes and then return to the surface to breath and repeat.  Just before they go under the water they give a bigger breath and then they roll their body a bit and the tail comes completely out of the water and gracefully goes under water.  At one point one whale did actually temporarily lift her head out of the water, but I was too busy watching the moment to catch it on film.  It was also kind of cool to see the green-flourescent hue that gets reflected off the whales white pectoral fins – I don't think this picked up on the pictures.  We watched this group of 4 whales for about 4 rounds of them breathing near the surface and then heading under to eat.  About an hour later we decided to leave these 4 whales and see if we could find any others.  Within a few minutes we were able to hear the now familiar noise of a whale breathing and when we reached the source of the sound we saw a mother and her calf (humpbacks again).  We probably spent about 15min watching these two and got to see the calf do a roll on to its back (again no pictures).  These two seemed to be taking a break from eating as they spent the whole 15 minutes hanging out near the surface.  Unfortunately our time was winding down, so we had to head back to the docks and leave the whales.  On our way back we stopped at a cove area that grey seals tend to hang out in and so we spent a few minutes watching the seals before finishing our ride.  All in all, a successful excursion!
Here's a clip of two humpback whales rolling and then going under water to feed:  Clip #3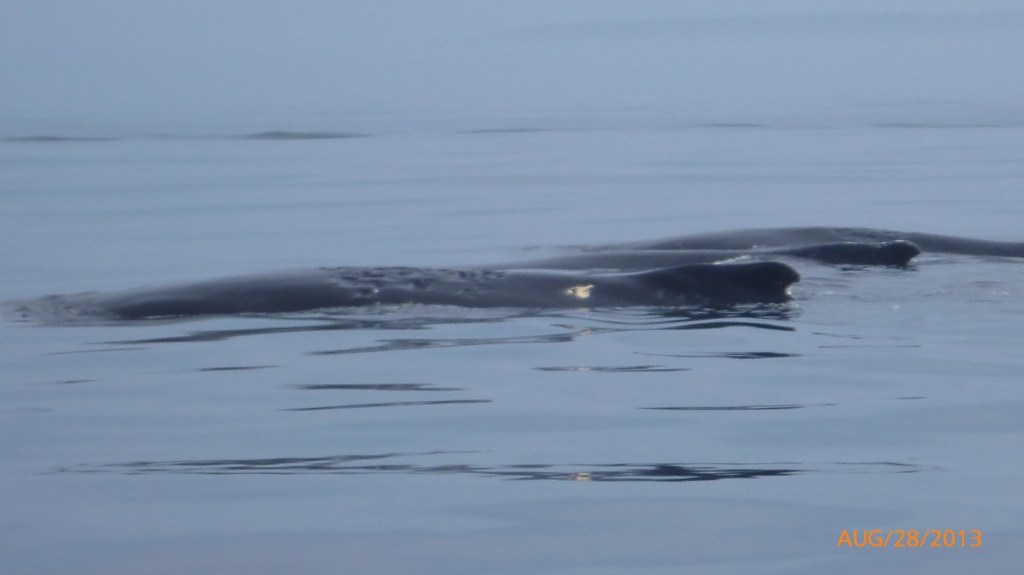 I headed to my motel in Digby where I had some world famous Digby scallops for dinner and called it a day!
Day 137: August 29 – Bay of Fundy
I didn't have anything particular planned today other then to get back to Amherst where I would be returning the car first thing tomorrow morning.  So I took my time leaving the hotel.  My first stop was a walk around the town of Digby where they were busy preparing for Wharf Rat Rally – a motorcyclist rally.  I checked out the wharf and saw the huge floating docs.  The Bay of Fundy experiences the highest tide changes in the world at around 50 ft.  The tide changes from high to low and back again every 6hrs 13min.
After checking out Digby I headed East to Annapolis Royal – the oldest settlement in Canada.  This area has experienced a lot of turmoil in the past and claims to be the most fought over land in Canada.  I did a tour around town to look at the old buildings and then walked around Fort Anne.
My next stop was South Maitland which is situated along the Shubenacadie River.  I arrived here around 5pm and was told by the kind lady at the information tourist info that the Tidal Bore would happen today in South Maitland at 6:20pm.  I decided to stick around to watch this phenomenon.  So what is a Tidal Bore?  It's when the incoming tide travels up a river and changes the natural directional flow of the river.  Apparently this can be as little a ripple or as a very visible wave.  Today it was a pretty mild ripple, however it was pretty neat to see just how quickly the tide did come into the river when it started.  While watching this occurrence I chatted with an elderly couple from Ontario who have spent the last 6 weeks road tripping – they had just come form Newfoundland and are now slowly making their way back to Ontario.  While chatting with them about my adventure a group of 3 started asking some questions – they were waiting for their daughters to finish 'riding the tidal bore' on a zodiac, they were supposed to be on the venture as well but the one guy broke two toes a couple days ago.  This group was also from Ontario and believe it or not but the one lady was a Schnurr born and raised in Formosa (a small town near my hometown!)  We tried comparing notes on people we might know, but we were just slightly off generation wise so we weren't having much luck!
And 40 min after the tidal bore started
Mid tidal bore
Day 138: August 30 – Amherst
Today was a rest and relax day.  After having breakfast I picked up my bike.  They had moved it from the electrical room to a room that they are holding for upcoming renovations – they felt it would be safer there because it is closed and locked, whereas the electrical room door is left open during the day.  Again – the kindness and consideration of others continues to impress me!
I dropped off the rental car and came back to tighten up the back and front rack on my bike (these were coming loose when I left my bike on Sunday – it wasn't anything that the hotel folks had done to it).  Unfortunately when I was tightening a nut on the front right rack, the screw it was attached to snapped off!  I must be getting too strong for my own good!  Haha!  I temporarily contemplated heading to a bike store to replace the front rack, or a hardware store to see if I can find a properly fitted U-shapped part to replace it, but decided given how close I am to my destination that I would try a duct tape fix job.  I hope it holds.  I really, really, really hope it holds.  The front rack is still attached by two other screws.  That along with the duct tape should work, right?  I'll make sure to adjust my gear so the pannier that goes on that rack is lighter in weight.  Please hold duct tape!