Day 43: May 27 – Regina to Indian Head
Heading East out of Regina I can't say I really noticed the flat at first simply 'cuz it was raining and I was keeping a keen eye on the pavement ahead of me trying to dodge puddles that might be hiding unsuspecting potholes which could cause me to spill.  Needless to say, the paved shoulder out of Regina was not the smoothest, but fortunately I was able to make it out incident free.
It rained for the first two hours of the ride today (I will take rain over wind any day of the week)!  Unfortunately mother nature must have noticed that I was back on my bike 'cuz after two hours of rain she shut down the rain and cued up the headwinds.  I'll be perfectly honest: more than once when I took a quick breather from the wind there would be a fist shaking at the sky while proclaiming 'You win wind, you win.  You're strong.  I get it.  Now can't you work WITH me?!?!'.  This lasted for about 3hrs at which point (thankfully) the winds died down and the rain started up again.
While it rained two separate truck drivers pulled over and offered me a ride.  One as far as the Saskatchewan/Manitoba border another 'to get ahead of the rain'.  Despite the offers, I declined and forged on.
Today I actually tried using my clipless pedals again for the first time since
Medicine Hat and at one point when I tried to unclip my right foot it would not for the life of me unclip.  So I unclipped my left foot, stopped my bike and actually had to take my foot out of the right shoe to get detached from my bike.  Turns out the clip on my cleat turned when I tried to unclip.  I quickly changed back to my trusty old school running shoes.
I rolled into Indian Head (68km later) just after 4pm and stopped by the tourist info to see
what was worth checking out.  They seem to promote a round barn, but it was a few km's off the highway so instead the lady at the tourist info and I discussed my journey and the wind.  She commented that although the winds are known to get strong, they do not usually persist at that strength for as many days in a row as what they have been.  After our chat, I used the washroom unwittingly dragging a lot of mud through the building.  I apologized but she laughed it off saying that's what vacuum cleaners are for.
At the Indian Head campground I was met by three kind ladies.  I asked if they happened to have a cabin that was pet friendly and they did!  I wouldn't have to set up camp on the wet ground!  After checking in (and knocking over a flower pot with the front wheel of my bike – it was a clumsy afternoon for me), I immediately booted up my laptop and turned on some music while I made this cabin my home for the next 15hrs.  I might be converted to cabin camping.  You get the pleasure of being close to the great outdoors, yet the convenience of a roof over your head and a mattress to sleep on.
Day 44: May 28 – Indian Head to Broadview
Leaving camp around 9:30 I was immediately greeted with a train going through town:
It was a rainy day, but winds where extremely mild and the temperature was around 15 degrees, so I was a happy duck!  The winds remained mild for the WHOLE day, so this was actually the most pleasant cycling day I have seen in about a week and a half.  I think it's safe to say I have now properly tested out my new Ortlieb waterproof panniers and they have passed with flying colors!
I made pretty decent time to Broadview, covering 83km just before 3pm where I checked into the Sweet Dreams motel which had good reviews online and I wasn't disappointed.  Nothing fancy but decent price, clean place, friendly people and you can tell they care about their property.
After getting settled into the motel and showered I took Dash for a walk to the local park.  Nobody was around so I let her run off leash.  She pranced and bounced around for about 45min before I got tired of standing out in the rain and I started getting hungry, so I picked up a club sandwich at a local restaurant and headed back to the motel.
Day 45: May 29 – Broadview to Moosomin
The headwinds returned.  3km into today's ride I saw a rest area and pulled off with the excuse that it would be good for Dash to get out and run.  In reality, I needed to change my mentality to tackling these headwinds.  Don't get me wrong, I wasn't naive enough to believe that I would get a tailwind every day.  But considering winds are supposed to be predominately out of the NW, I was expecting a tailwind at least 40-50% of the time.  Since Calgary I have cycled 13 days, 2 with a tailwind, 8 with a mid-strong headwind and 3 with a weak headwind.  Alas – the direction or strength of the wind is not something I can change or control, so I need to change my approach.  Instead of cursing and getting frustrated with every km I crawl by at a painfully slow 7-13km/hr, I will embrace the fact that I can (and will!) tackle these kilometres no matter how slow or fast I conquer them!  I have also removed all shame in walking on flat land (which I have had to do more than once) and have no objection to hunkering down in a hotel on the days that the wind is quite simply too much for me (I've determined this is around the 40km/hr + range).
This was a turning point for me.  When I got back on the bike I was actually able to smile and sing along to my music once again as I rode into the 30km/hr winds for the remaining 70km I conquered today!
I arrived in Moosomin just after 5pm where I booked into the Motel 6, what looks to be a fairly newly built motel.  The gentleman who greeted me said that I was the 4th person who has stayed there this year who is cycling across Canada.
I grabbed dinner at the Red Barn, a restaurant pretty close to the hotels and just off the highway.  Chicken and mashed potatoes – it was quite tasty!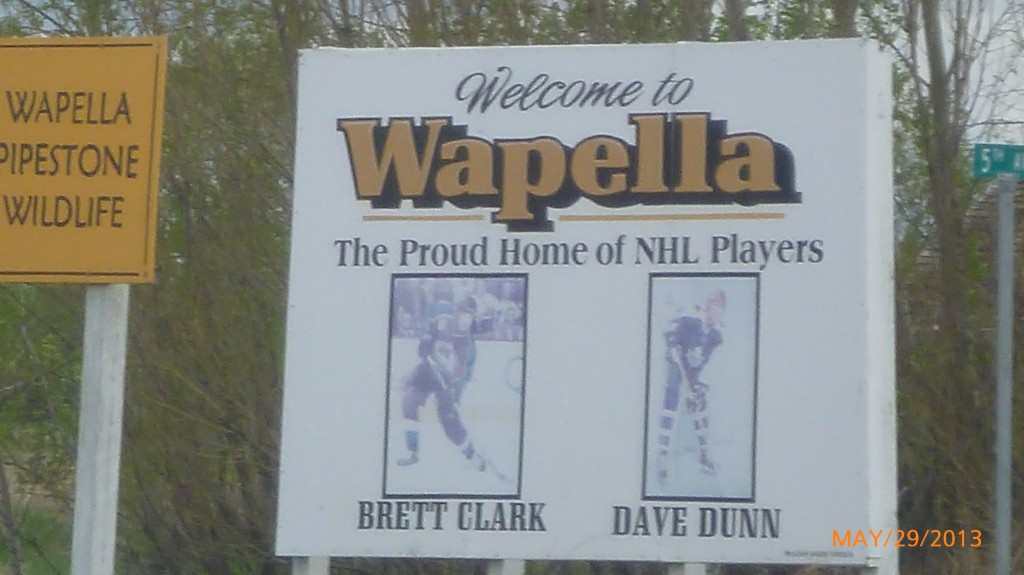 Day 46: May 30 – Moosomin
This morning I woke up to high headwinds (40km/hr with gusts up to 65km/hr) and cloudy skies with the forecast of A LOT of rain (30-40mm), so I immediately went to the front desk of the hotel and booked myself for another night.  I will be spending the day cowering from the wind in Moosomin!  My first errand was to pick up some peepads for Dash and then drop by the grocery store to pick up some fruit, banana's, chocolate milk, crackers, etc.
Getting back to the hotel I then went through all my gear and identified what I have yet to use.  Those items I took down to the post office (gentleman working there was super friendly) and shipped them back home (thanks Sue for offering to pick these up for me!!).  So what items did I ship home?  For starters – my clipless cycling shoes – these just aren't working for me, from here on out I'm riding in my runners or sandals.  Someday when I'm not carrying 100+ lbs of gear on my bike then perhaps I will give these shoes another try, but it won't be this summer.  I also sent home my wind pants, a t-shirt I have yet to wear, a sarong (I might regret this one when I get to beach areas, but I can always buy a new one then), bear bag and rope for the bear bag (I still have a bear canister for storing food when camping in bear country).
I also had the opportunity this afternoon to call and chat with both of my brothers!!  It was great to catch up with them and I'm looking forward to seeing lots of friends and family when I go through southern Ontario!!

The remainder of the day I spent perusing other blogs of people who are currently cycling across Canada.  One fellow is about 150km west of me right now and also chose to hunker down for the day to avoid getting frustrated (and exhausted) trying to ride into the wind.  For some reason this makes me feel more justified about my experiences with the wind!
What has become almost a daily tradition – I also google mapped where I currently am and scanned out to where Victoria BC is.  It's quite remarkable to look at the ground already covered!
Day 47: May 31 – Moosomin
NE winds are still humming along at 35km/hr with gusts near the 60km/hr mark, the rain stopped late morning, but the temperatures have dropped to single digits.  So I managed to read the rest of the book God Bless You Mr. Rosewater (I really haven't read near as much on this trip as I thought I would have by now), reading up on blogs of fellow cross Canada cyclists and looking at the logistics for the Brandon to Sauble Beach leg in a bit more detail.  The perfect way to spend a rainy day!!

I also took Dash out for a couple quick walks where she immediately found some mud to dig around in.  While out on one of these walks the owner of the motel asked if I needed a ride into town or any items picked up (I didn't need anything, but the offer was appreciated).  Last night when I stepped out to pick up a Subway sandwich, I was walking back to the hotel in the pouring rain when the owner drove by and gave me a lift the last .25km.  These simple acts of kindness along the way will undoubtably be on my top 10 moments of the trip.