Day 7: April 21 – Vancouver to Victoria
Today was my first real day on the bike, cycling just shy of 98km from Vancouver to Victoria.  I headed out around 8:30am (the plan was to be on the road around 7, but it turns out I'm not an early riser, nor am I quick packer).  So 8:30 I was on the road and given it was the day of the annual Vancouver Sun Run, vehicle traffic was quite light heading out of the city!
I'm happy to report there was NO difficulty re-finding the cyclist/pedestrian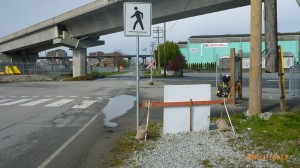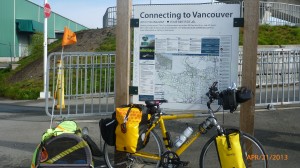 bridge connecting Vancouver to Richmond!  However for my own validation, I did take a couple pictures when I reached Richmond.  The picture to the right is the view of the sign and bridge that I had when I originally approached (and circled) the bridge a few days ago.  The sign below is what you see when approaching from the other side of the road.  I think it was reasonable that I missed this turn off the first time.
Now that I was safely across one bridge and in Richmond, I had to now cross the Fraser River over to Delta.  Given my previous experiences trying to cross bridges in Vancouver I thoroughly researched this route beforehand and came up with two options.  1) Cross the Alex Fraser bridge on the sidewalk (adding about 20km to the trek) 2) Head to Hwy 99 and take the bicycle shuttle through the George Massey Tunnel.  I opted for option 1, mostly because I feared getting to the shuttle service and finding they wouldn't take my trusty companion Dash on the shuttle.  Heading east along River Road to get to the Alex Fraser bridge was a flat ride with many other local cyclists out for a ride.  At one point I noticed that the cyclists turned off of River Road and after another kilometre of riding I found out why: the road
slowly became smaller until I arrived at a gate.  Ugh.  Not wanting to turn around I scoped the area out and found a gate with a little trail.  Quickly scanning around to make sure nobody was watching, I opened the gate and pushed my bike and trailer onwards.  About 5min later, having crossed through a mill and several more unlocked gates, I arrived on the road again!  Phew!
Now that I was on the road again, I made good time to the Alex Fraser bridge and was able to find the path to the sidewalk with very minimal circles!
Heading along River Road on the south side of the Alex Fraser bridge I once again made pretty good time along flat land until getting to Hwy 99.  Hwy 99 at this point runs east/west, I was north and heading south.  My GPS and previous research sent me to 72nd st., however when I got there I found to my dismay that the overpass was under construction and impassable.  Mere minutes after finding out this news it began hailing, raining and the temperature dropped to about 5 degrees.  How's that for weather reflecting your mood?  I headed back from where I came and crossed Hwy 99 via Hwy 17 (fortunately it had a wide shoulder).  About another hour of riding and I was at the ferry that would take me to Vancouver Island.
They ferry was incredibly efficiently run.  Departure time was 3pm and arrival in Sidney (about 35km north of Victoria) was 4:35pm.  Unfortunately because I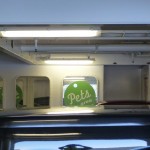 was traveling with Dash I wasn't allowed in the passenger area, however they did have designated 'pet areas' on the car decks with a couple heaters (good for drying running shoes after cycling in the rain!).  After making friends with 2 couples travelling with their dogs I pulled out some dry clothes and asked if they would attend to Dash while I got into dry clothing.
Fortunately the rain had not made its appearance in Sidney, so when we landed on Vancouver Island it was to dry weather.  The 40km ride to Victoria was quite scenic and for about 20km quite hilly (lots of walking for me).  With all the hill walking I was quickly losing daylight so I didn't stop to take any pics on this stretch.  Arriving at my hotel just before 9pm I quickly settled in and ordered a pizza for delivery which was probably eaten in record time! lol!
Day 8: April 22 – Victoria
No riding today!  I contemplated taking my bike to Mile Zero and getting the 'kickoff' picture, but decided that could wait until tomorrow.  Instead, Dash and I set out on our feet and walked through the downtown core of Victoria, past the BC Provincial Government buildings/grounds, Fisherman's Wharf (where I had my second delicious fish and chips of the trip), along the waterfront (where we sat and mingled with some of the locals for a while) and up to Castle Craigdarroch.
The two highlights of the day would have to be Fisherman's Wharf.  Very touristy, but also very interesting.  They have a community of 33 'floating homes', very much like Granville Island, but a larger community.  They also have a couple restaurants that float, so you can eat your meal on a floating sidewalk while watching the seaplanes land and harbour seal's play near by.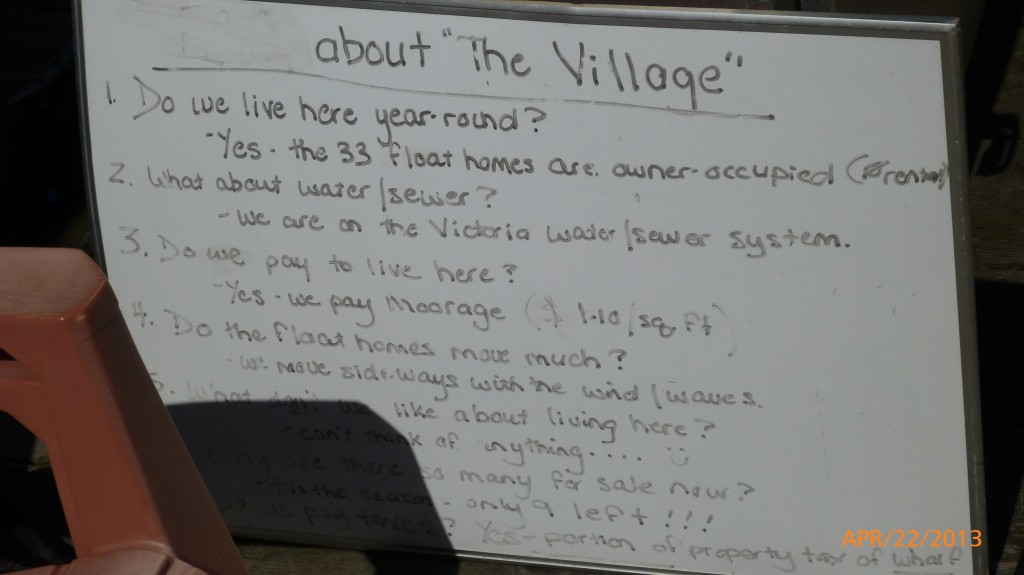 There were also 2 Harbour Seals that were hanging out here (at least they did until Dash barked at them):
The second highlight of the day was having a seat on some rocks by the water with the view of the mountains in the distance.  I sat and took the landscape in for about an hour, meeting a local (Don) who's birthday is the day before mine and has cycling across Canada on his bucket list.
Day 9: April 23 – Victoria to Sidney
Heading out shortly after noon, I loaded up my bike and trailer and headed to Mile Zero.  I had actually walked passed Mile Zero in my walk the previous day, but it didn't feel right to leave Victoria without a picture of me, my gear and the mile zero sign!  When arriving at the sign, I hung out for several minutes trying to figure out how to get a picture with me, the bike, Dash and the sign.  Fortunately somebody across the street saw my dilemma and came over to take my pic!
I then headed East along the water to do the ceremonial 'dipping of the tire in the ocean'.
From here I kept to the scenic route heading along the water East and North back to Sidney.
Stopping at Mt Douglas Park for a quick break I met an older gentleman who has biked across Canada twice!
Day 10: April 24 – Sidney to Fort Langley
The alarm went off at 5am this morning.  How I would have loved to hit
snooze, but I did have a 7am ferry to catch.  Grabbing a quick continental breakfast at the hotel and packing up my gear I was on the road by 6:10 for the 7km ride to the ferry (I have routinely underestimated how long it takes me to pack up my gear and get ready for the day of riding, this is about an hour long process that I hope to make more efficient in time! lol!).  Cutting it perhaps a little close I arrived at the ferry at 6:45am where they had already started boarding the buses and transport trucks.  Nevertheless, they let me on, so all is good!

Arriving on the mainland promptly at 8:35am, I hung around the ferry terminal to allow traffic to dissipate so I wouldn't have to share the 3km ride on highway 17.  On the East side of the town of Tsawwassen I found a trail that runs along the water (mud bay and boundary bay trail).  This was a flat, loose gravel trail.  The flat part was great, but loose gravel slows things down a bit with all the gear I'm pulling.  Nevertheless, it was a much more pleasant ride than the highway or roads and Dash was able to get out of her trailer and run beside me for about 12km.
According to the signs, Mud Bay and Boundary Bay are very popular for birds and bird watching folks.  It is a along the pacific coast migratory path and is a place that many birds use to rest while making the trek from Alaska and North Western Canada to warmer climates in California and Mexico.  Reading on these signs that Bald Eagle's and other birds of prey are commonly found in this area, I found myself constantly watching the sky to make sure an Eagle didn't mistake Dash for lunch…
After stopping to chat with a fellow cyclist who regaled me on some of his Victoria to Vancouver touring (ie. long bike trip) stories, the next destination was a boarding place for Dash.  I would be boarding Dash for a few hours while I met my parents to pick up our rental RV for the next two weeks to get through the Rockies (pets are not 'technically' allowed in the RV).  The plan is that I will cycle as much as I can, but the RV will lug my gear and Dash through the Rockies, offer accommodations at night (given how early in the season I have started this trip, some campgrounds have yet to open for the season) and will also allow me to hitch a ride if I'm finding the mountains too difficult to cross.
After picking up the RV with minimal hiccups we were on our way back to pick up Dash, grab some groceries and on to our first campground in Fort Langley.  This section of the trip I didn't cycle.  Altho, with how busy it was (rush hour traffic), I may have made better time on my bike!
Day 11: April 25 – Fort Langley to Kilby
We had a late start to the day as a fellow RV camper was showing us how to hook up our water.  This was the main hiccup we had the previous day when picking up the RV – we were told by the customer service rep that given the colder temperatures through the Rockies that we ran the risk of freezing the waterlines, damage that we would be held accountable for.  With our lack of RV experience, we believed them and decided (at their strong recommendation) not to have water service in the RV.  After speaking to a few people, we were instructed that this would only be an issue if we reached temperature closer to -10 degrees.  After 'de-winterizing' the RV unit we were on our way shortly after noon.
We were warned heading out of the campground that there was a really steep 12% grade (and long) hill about 10km in to the ride, so my parents followed me in the RV and waited for me at the bottom of the hill where we popped the bike on the RV and mom and I walked up the hill!  Awww – the convenience of having a support vehicle!!!

Otherwise, the 68km ride for the day was a combination of rolling country hills
and trails heading into Mission and then fairly flat terrain weaving through the foothills from Mission to Kilby where we set up camp for the night.  Kilby campground is a 28 site campground tucked a couple kilometres off of Hwy 7 and is deemed a historical site, located on Harrison River (although the river looks much more like a lake where the campground is located).  Given that it is still slightly off-season, we were not able to tour the local museum or historical inn or general store but we did stroll around the small community and read the signs giving some history on the town of Kilby.
Day 12: April 26 – Kilby to Hope

Heading East from Kilby there was about a 5km stretch that became quite hilly.  Thankfully as I was not lugging all my gear I was able to bike up the hills!  Thanks parents and RV!

 Today's 53km ride was very scenic, for the most part cruising along flat terrain around the mountains.  At the juncture of Hwy 7 and Hwy 9 we took a two hour side trip putting the bike on the RV and headed North to the town of Harrison Hot Springs to soak in the Hot Springs!  There is a resort that owns the rights to the hot springs (and have owned the rights since the late 1800's), however they have taken one source of hot springs and made it community accessible.  The hot springs are actually cooled to a bearable temperature and fed into this community pool:
Even though the hot springs are very soothing and my body certainly did appreciate the detour, it lacked a bit of the natural atmosphere!
Heading back to Hwy 7 & 9, I hopped back on my bike and continued the ride East/North to Hope.
Day 13: April 27 – Hope to Osoyoos
Before you google the distance, let me be the first to say – I took full advantage of the RV today and did NO riding!  Hope to Osoyoos is about 250km and on this particular day the temperature was a bit milder with rain in the forecast.  The route from Hope to Osoyoos is very remotely populated, especially this time of year when many of the privately owned campgrounds and Manning provincial park campgrounds have yet to open for the season.  This seemed like the perfect stretch to get a ride.

 As we left camp, my mom  bumped into a couple who was riding across Canada and headed in just our direction.  They were aiming to get to Alison's Pass where they would set up camp, they were anticipating today to be their toughest ride – I certainly didn't envy them as we rolled away in the RV.
Our morning started with a quick visit to the Othello tunnels at Coquihalla Provincial Park.  Unfortunately this was a quick visit because they were closed due to falling rock hazard.
About 70km into the day's drive we reached our highest point of the day.  Alison's Pass at 1,342 metres.
The air was much brisker and given the amount of snow still around, let me just say I was happy I wasn't on my bike for this section!
About 170km into the drive we came across the small town of Hedley, which was once a gold mining town.  After a walk around town and a bite to eat we continued on our way.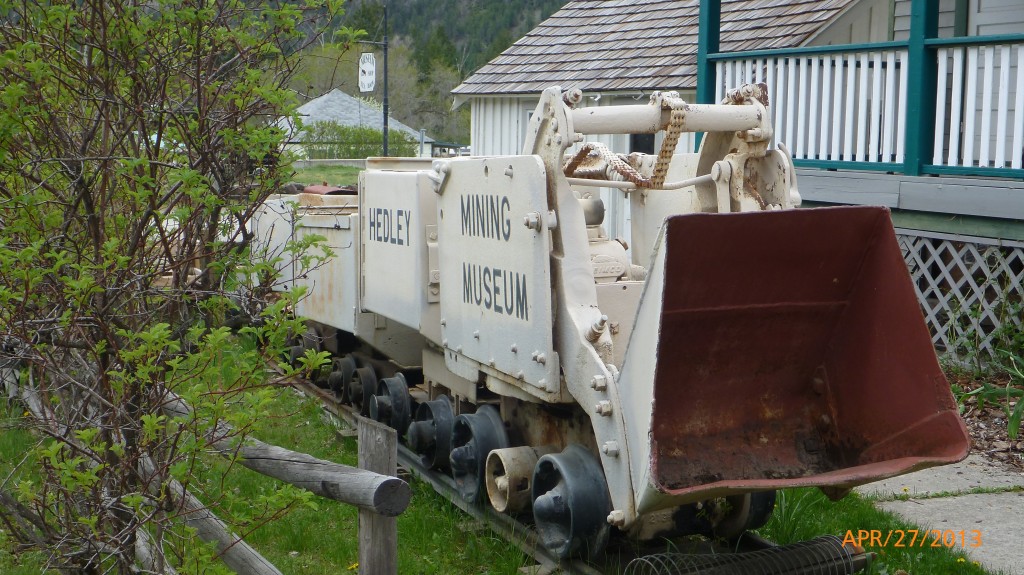 Our next stop was our destination for the night – Osoyoos!  Getting to camp at a decent hour (4:30) and having the luxury of a rest day, I took the opportunity to update the blog.  Hopefully my next update will be less than a week away, but in the mean time, here are some pics of my home for the next week and a half: