Day 8: April 26 – Haast to Fox Glacier*
Daily Distance = 86.92km, Trip Total = 218.75km, Today's Climb = 570m
*Cycled 13km south of Haast to Bruce Bay, drove Bruce Bay to Fox Glacier
One thing I have noticed that now exists on google maps which I didn't realize with the last trip: is the bike option which shows elevation ascent and descent.  For example, here's the google cycle route from Queenstown to Wanaka:
I've only been on the road two days, but every night before the next days ride it has become a necessary habit to check out the following ride.  How much does it climb?  Where are the climbs?  Is it gradual or quick?  Given our spotty wifi last night and no cell service to create a hotspot for my laptop (I've only been able to get this info using my laptop, I can't seem to find it on my iPhone or my folks tablet).  Regardless, I wasn't able to get the info for the upcoming day and felt a little lost.  I knew the first 13km would be flat because I'd be backtracking the road we came in on.  After that it's hard to say.  Terrain can change quickly with each km in the mountains.
So I headed out with the mindset that every km of flat and downhill is a bonus!
Mom had noticed the previous night that some of the trees along this stretch of the road must really feel the impact of a dominate wind as they have a lean and in some cases are barren:
Shortly after I got back on Hwy 6 I came up to a rather lengthy one lane bridge.  I usually ride right down the middle of these to prevent vehicles from trying to edge past me.  Fortunately this bridge which was probably just over 1/2km long had a couple of passing bays.  This is a pretty remote area, so I only encountered two vehicles while on the bridge and fortunately I was close to a passing bay at the time so I didn't have to slow traffic down too much.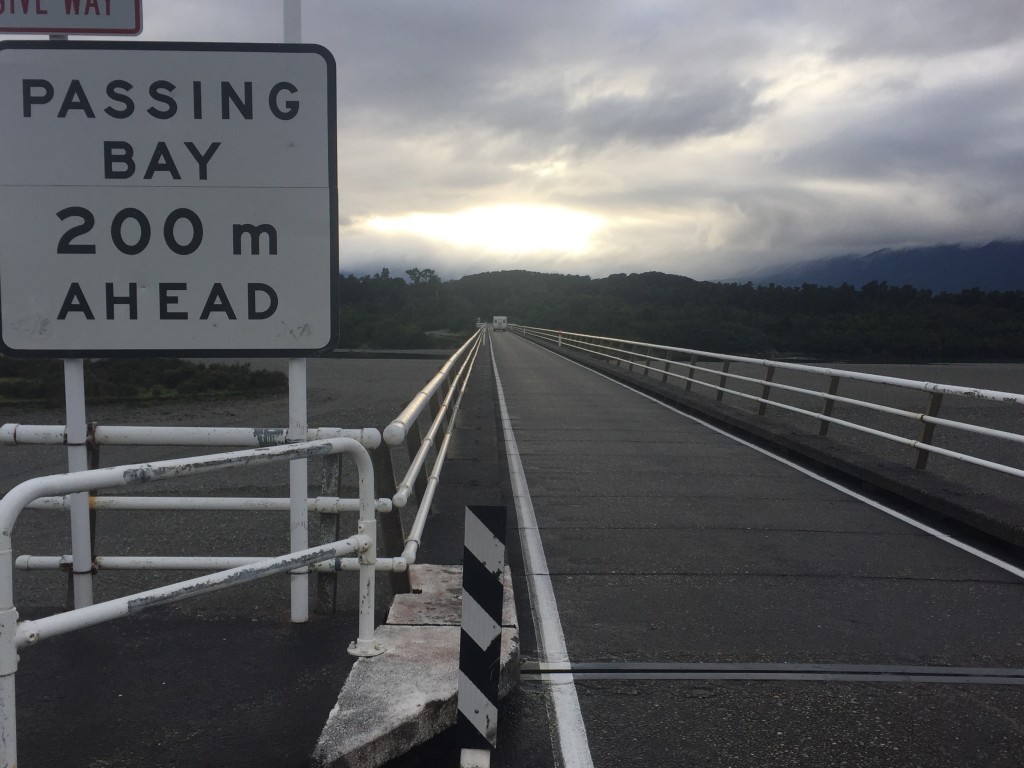 We have also noticed between Queenstown and here that the majority of the rivers are currently without water and mostly just rocky footbeds.
Around 25km's into my (so far flat) ride my parents had passed me and were pulled into a rest spot.  I stopped to chat and grab a quick snack and they told me they had stopped at an I-site (tourist info) in Haast.  They asked the lady working there to bring up the elevation info between Haast and Fox Glacier and took a picture of it for me.  I now had intel on the ride ahead!  We didn't stop for long as we were getting bitten like crazy from sandflies.  This would be the trend for the day.  Fortunately they didn't bother me when cycling, but at almost every stop they were there!
About 5km's later I was climbing again until I reached Knight's lookout which was a pretty busy spot.  Mom and dad were chatting to a group that they had bumped into at a previous lookout point earlier in the day.  Apparently there was an area that a pod of dolphins could be seen, but I completely missed it.
From Knight's lookout it was a blissful descent followed by lots of flat road.
Given the lack of daylight hours compared to when I had done the Canadian trip and the number of km's between towns in this area, the days on the bike feel a bit rushed.  It seems almost like a bit of a race to get as much cycling in during daylight as possible and still reach our destination during daylight as well.  I'm hoping when I get to the north island there will be more towns closer together and I don't have to worry about covering as much ground in a day.  At my slow cycling pace it would be difficult to cover this area of the country on my own at this time of the year.  I would definitely have to split the days into shorter distances and camp along the way.  Fortunately I have my parents with me and I get a more spoiled version of the trip: I can hitch a ride when I want, I don't have to carry my gear, I have meals made for me, etc.  Thanks parents!

When I arrived in Bruce Bay, we packed the bike in the car and drove the last stretch to our accommodations for the night at Fox Glacier.  In Fox Glacier we had the luxury of having cell service and wifi again!